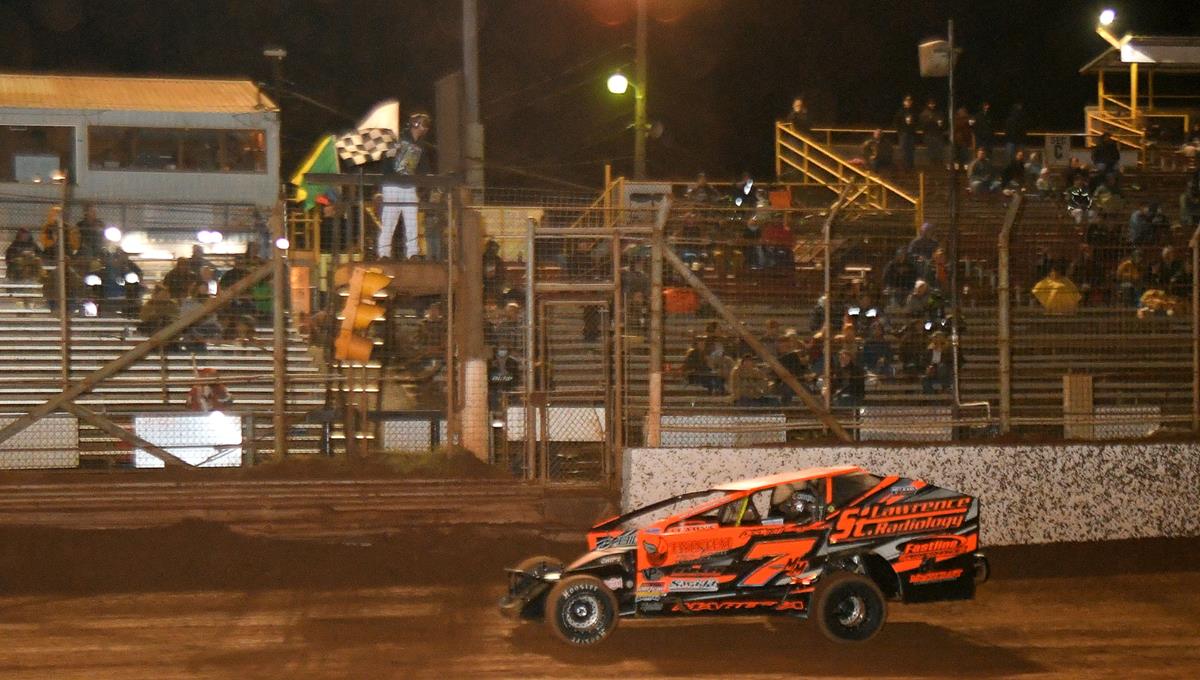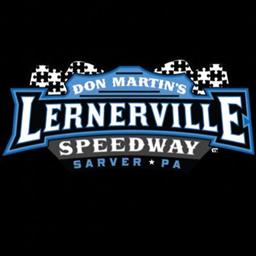 10/3/2020
Lernerville Speedway
---
Lernerville Quick Results 10.2.20
Sarver, PA (October 3, 2020) Four divisions were in action on a crisp fall evening at Lernerville Speedway on Friday night and when all was said and done, two first time feature winners found themselves in Terry Bowser Excavating Victory Lane. Michael Maresca paid a rare visit to The Action track and led all 25 laps in collecting the Diehl Automotive DIRTcar Big Block Modified main event while Duke Davidson simply drove away from the rest of the field in the Millerstown Pic-A-Part DIRTcar Pro Stock feature.
AJ Flick took home his fourth feature win of the season as he overtook a lightning fast Michael Bauer near the halfway mark of the Peoples Natural Gas DIRTcar Sprint Car main event, and then held off a final charge from Bauer en route to the win. Meanwhile, Jack Sodeman Jr. pulled double duty on Friday night and found paydirt when he came up with a thrilling last lap pass of leader Nolan Groves to take the honors in the 15 lap RUSH Sprint Car feature.
Full recap of the entire of the complete night of racing action is forthcoming.
Peoples Natural GasDIRTcar 410 Sprint Feature: (25 Laps)
(2) A.J. Flick(29) Michael Bauer(08) Dan Kuriger(42) Sye Lynch(7K) Dan Shetler(23jr) Jack Sodeman Jr. (13) Brandon Matus(7NY) Matt Farnham(11) Carl Bowser(33) Brent Matus(90) Jordan Givler(14z) Wyatt Zimmerman(76)Davey Jones(G1) Mike Miller(14H) Jeremy Hill(10P) Jim Perricone(55*) Matt Sherlock(70) Henry Malcuit(23) Darren Pifer(12J) Jonathan Jones
(22) Brandon Spithaler- Did Not Start
(154) Shamus ODonnell-Did Not Start
(27) Zach Morrow- Did Not Start
Diehl Automotive DIRTcar Northeast Big Block Modified Feature: (25 Laps)
(7MM) Michael Maresca(83) Brian Swartzlander(29) Garrett Krummert(61) Dave Murdick(45) Steve Feder(165) Rex King Jr. (18W) Colton Walters(65) Rex King Sr. (35) Steve Slater(22) Kevin Long(88) Shawn Fleeger(5) Brian Sadler(3K) Shawn Kozar(45F) Matt Feder(37MD) Jeremiah Shingledecker(32R) Chris Rudolph(4J) John Mollick(72M) Jacob McElravy(96) Mike Turner
Millerstown Pic-A-Part DIRTcar Pro Stocks Feature: (20 Laps)
(81D) Duke Davidson(22J) Chase Lambert(66) Joe Kelley(948) Joey Zambotti(26) Mike Bordt(81) Mike Miller(79) Tommy Dembowski(4) Brett Hutira(54E) Tony Iarrapino(5) James Bertges(56) Bryan Wagner(74) Chris Scheider(02) Dakota Heinl(25) Brett McDonald
RUSH Sprint Car Feature: (15 Laps)
(8W) Jack Sodeman Jr. (25) Nolan Groves(41) Jeremy Weaver(69) Brian Hartzell(24) Gale Ruth Jr. (9J) Andy Feil(36) Shawn Smith(8B) Brian Woodhall(14) Rick Regalski(21) Steve Pedley(27M) Zach Morrow(57N) Tyler Newhart(69x) AJ MacQuarrie(62) Brian Cressley(16c) Amelia Clay(29) Brandon Shughart(10) Brandon Blackshear
Amick Associates Heat 1 for Peoples Natural Gas Sprints:
(11) Carl Bowser(13) Brandon Matus(42) Sye Lynch(76) Davey Jones(23) Darren Pifer(G1) Mike Miller(14z) Wyatt Zimmerman
(22) Brandon Spithaler- Did Not Start
Glassmere Fuel Service Heat 2 for Peoples Natural Gas Sprints:
(7K) Dan Shetler(7NY) Matt Farnham(12J) Jonathan Jones(23j) Jack Sodeman Jr. (10P) Jim Perricone(90) Jordan Givler(14H) Jeremy Hill(55*) Matt Sherlock
Ferguson Heating and Air Conditioning Heat 3 for Peoples Natural Gas Sprints:
(29) Michael Bauer(08) Dan Kuriger(2) A.J. Flick(70) Henry Malcuit(33) Brent Matus(27) Zach Morrow(154) Shamus ODonnell
GetPhil.com Heat 1 for the RUSH Sprint Cars:
(24) Gale Ruth Jr. (69) Brian Hartzell(27M) Zach Morrow(9J) Andy Feil(14) Rick Regalski(21) Steve Pedley(57N) Tyler Newhart(69x) Aj MacQuarrie(62) Brian Cressley
American Steel Procesing Heat 2 for the RUSH Sprint Cars:
(8) Jack Sodeman Jr. (41) Jeremy Weaver(36) Shawn Smith(10) Brandon Blackshear(25) Nolan Groves(8B) Brian Woodhall(16c) Amelia Clay(29) Brandon Shughart
McCutcheon Enterprises Heat 1 for Diehl Modifieds:
(45) Steve Feder(35) Steve Slater(32R) Chris Rudolph(4J) John Mollick(29) Garrett Krummert(18W) Colton Walters(22) Kevin Long(5) Brian Sdler(3K) Shawn Kozar(45F) Matt Feder
Thermo Twin Windows Heat 2 for Diehl Modifieds:
(61) Dave Murdick(37MD) Jeremiah Shingledecker(83) Brian Swartzlander(96) Mike Turner(7MM) Michael Maresca(165) Rex King Jr.(65) Rex King Sr.(72M) Jacob McElravy(88) Shawn Fleeger
Thoma Meat Market Heat 1 for the Millerstown Pic-A-Part Pro Stocks:
(81D) Duke Davidson(79) Tommy Dembowski(81) Mike Miller(948) Joey Zambotti(56) Bryan Wagner(26) Mike Bordt(4) Brett Hutira
Hovis Auto and Truck Supply Heat 2 for the Millerstown Pic-A-Part Pro Stocks:
(22J) Chase Lambert(66) Joe Kelley(25) Brett Mc Donald(74) Chris Schneider(5) Gary Churchfield(54E) Tony Iarrapino(01) Dakota Heinl
Car Count Total: 73
Peoples Natural Gas Sprints: 23
Diehl Modifieds: 19
Millerstown Pic-A-Part DIRTcar Pro Stocks: 14
RUSH Sprint Cars: 17
Back to News