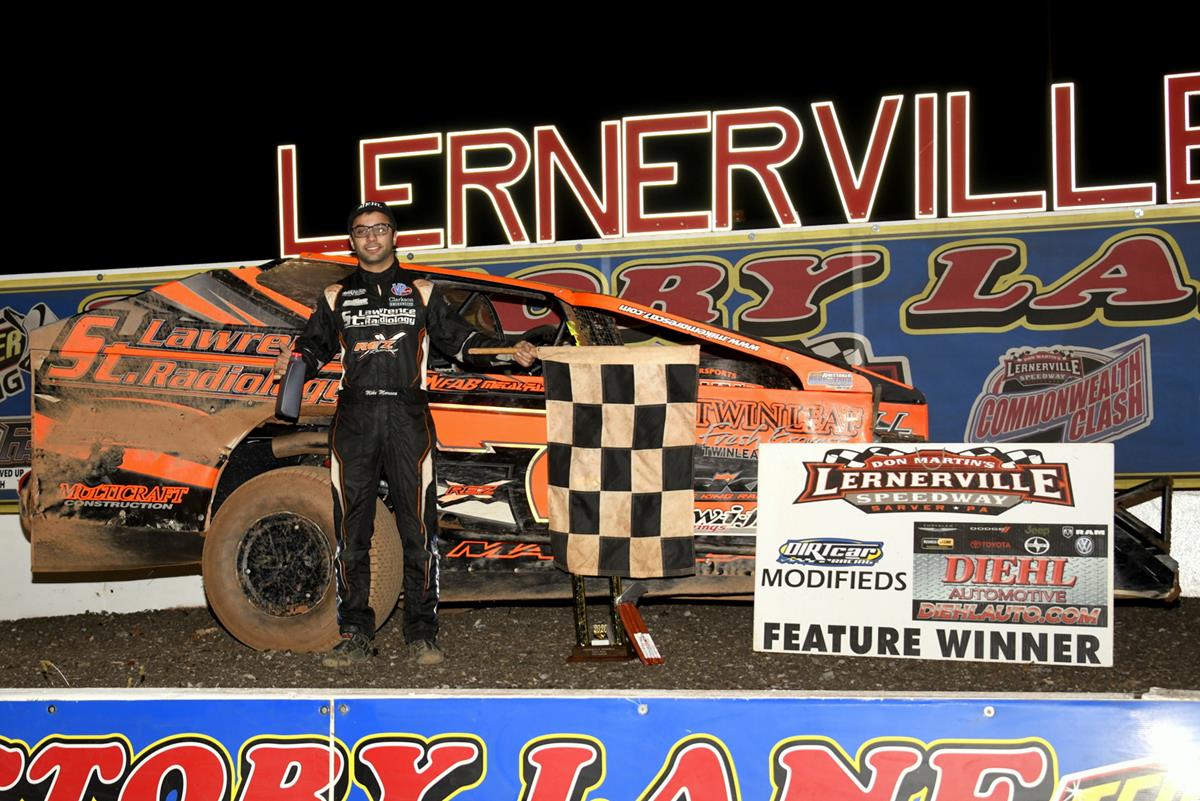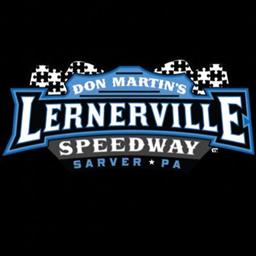 10/3/2020
Lernerville Speedway
---
Action Track Recap- Maresca Wires Modifieds; Flick Earns Fouth Win; Davidson Cruises; Sodeman Comes up with Last Lap Magic
Sarver, PA (Oct 3, 2020) The weekly racing rolled into October at The Action Track in 2020 as a seasonably cool night and a surface with plenty of bite and character greeted fans and drivers on Friday night at Lernerville Speedway. The points battles for two divisions became a bit more clear as a four division program unfolded that saw two drivers come away with their first career feature wins while the two Sprint features on tap were split by future hall of famers.
Michael Maresca paid a rare visit to The Action track and led all 25 laps in collecting the Diehl Automotive DIRTcar Big Block Modified main event while Duke Davidson simply drove away from the rest of the field in the Millerstown Pic-A-Part DIRTcar Pro Stock feature. Meanwhile, AJ Flick took home his fourth feature win of the season as he overtook a lightning fast Michael Bauer near the halfway mark of the Peoples Natural Gas DIRTcar Sprint Car main event, and then held off a final charge from Bauer en route to the win.
Jack Sodeman Jr. pulled double duty on Friday night and found pay dirt when he came up with a thrilling last lap pass of leader Nolan Groves to take the honors in the 15 lap RUSH Sprint Car feature.
Though hed had found a way to Terry Bowser Victory Lane with the World of Outlaws Morton Buildings Late Models, taking a $3,000 victory in the Uncle Sam 30 in June of 2018, Mike Maresca had never won a Fab4 feature in various attempts over the years. That streak came to an and end in a performance that saw Maresca lead the Big Block Modified feature from wire to wire, while looking dominant in the process, in a race that also had season championship implications.  Maresca started on the front row of the 25 lap main event alongside Chris Rudolph and quickly assumed command of the field. Behind him, a hotly contested battle for position got underway between Rudolph, Steve Feder, and Jeremiah Shingledecker.
Meanwhile, the battle for the title between points leader Garrett Krummert and John Mollick was ramping up as the two drivers, separated by a mere point heading in to the feature event, were running very close together with Krummert holding a slight advantage in the early going. Mollick made a furious charge forward, making his way around Brian Swartzlander and Dave Murdick in an attempt to reach Krummerts back bumper. They would find themselves running third and fifth respectively when all action slowed for a caution with six laps down. On the ensuing restart, Maresca put the field behind him with relative ease while Krummert made his way to second, getting around the cars of Shingledecker and Feder. However, Mollicks fortunes went south just two laps later when Swartzlander made contact with him in turn four that moved Mollick into the front stretch wall, ending his night and damaging his title hopes.  When action resumed, Swartzlander surged forward, eventually making his way around Krummert for the second spot. However, Swartzlander would not be able to catch Maresca out front who found himself nearly a full straightaway ahead while not losing any ground in dealing with lapped traffic in the final five laps on his way to the feature win.
œWe had a good starting spot and that absolutely helped,? Maresca said. œThe car did really well on the cushion. It was pretty dicey on some of those restarts, and I really didnt know where to go or which lane to restart in. I started on the top a few times and the 29 car of Krummert almost got me. I moved to the bottom on that last one and it sealed the deal.?
Michael Bauer had already scored a feature victory in Sprint Car action in 2020 and was looking for a second one on Friday night. The young pilot started up front in the 25 lap main event and went to work immediately, taking the lead over second running Dan Kuriger and Matt Farnham. Behind them AJ Flick made his way from the eighth starting spot to fourth in just two laps while Dan Shetler took up the fifth spot once he made his way around Sye Lynch. Following an early caution, Flick made his way around Farnham and then Kuriger while splitting lapped traffic in the process before setting his sights on Bauer who had rolled out a sizable advantage over the field.
Jonathan Jones went over the turn four cushion bringing out the caution flag with nine laps down and on the ensuing restart, Flick dove to the bottom in turn one and came out on top coming out of turn two, taking the lead away from Bauer. Once out front, Flick looked destined for victory lane after he pegged two restarts that Bauer was unable to take advantage of. But as Flick entered lapped traffic, Bauer closed the gap considerably, taking looks down low for the lead with seven laps remaining. Flick felt the urgency of the moment though and found a bit more speed to once again put distance between himself and Bauer over the waning laps to secure his fourth feature win of the season as Bauer and a strong running Dan Kuriger rounded out the podium.  The win, combined with a ninth place finish from his closest pursuer in Carl Bowser, gave him a nearly insurmountable 36 point lead in the season championship chase.
œIts surreal,? Flick remarked in victory lane. œIts pretty cool. Im just grateful we were able to add to this win total. I havent been very good outside of Western Pennsylvania this year and its been disappointing to me. When we ran here last week for the Outlaw show I just didnt reach my expectations and I was pretty upset about it. But ironically enough the race track this week was similar to the race track last week and I think we made some really big improvements for these fast race tracks. We didnt expect to go from eighth to the lead as quick as we did but the breaks went out way.?
With no season points on the line for the Millerstown Pic-A-Part Pro Stocks, a few cars were absent in a cash and carry night including title contenders Tyler Dietz and Corey McPherson. However, Joey Zambotti, Joe Kelley, Mike Miller and the always formidable Chris Schneider were on hand as heavy hitters were still on the track, ready to add another feature win on their respective resumes. Schneider started on the front row alongside Brett McDonald.
There was little momentum in the early going with cautions delaying the action multiple times. Following a second restart in the early laps that saw Miller and Zambotti come together in turn two, sending Miller to the back of the field. The front row was reset with Schneider and Zambotti who wasted no time taking the lead away from Schneider and stayed there until Duke Davidson wrested the lead away from him using the bottom groove coming out of turn four at the line as a caution flag waved afterwards with eight laps down. When action resumed, Davidson remained out front while Zambotti, Chase Lambert, Joe Kelley and Miller battled for position behind him. Â Lambert would eventually grab the second spot, however out front it was all Davidson who seemingly drove away from the rest of the field en route to victory lane.
The best battle of the night belonged to the RUSH Sprint cars. Nolan Groves, leader of the RUSH Futures Cup standings to date, started up front and held off an early charge from Bryan Hartzell in the early going to emerge as the early race leader in the 15 lap main event. Meanwhile, Zach Morrow would make his way around Hartzell for second and set his sights on the race leader. Morrow, owner of two Lernerville victories in RUSH Sprint action in his career, challenged Groves down low but was unable to pull around for the lead. Behind them, Jack Sodeman Jr. and Jeremy Weaver were coming forward with authority.
With five laps in, Sodeman made his way around Hartzell for the third spot and had the leaders in his sights and found himself in second following a Morrow spin in turns three and four with eight laps down. When racing resumed, Groves put several car lengths between himself and Sodeman initially, but as the laps wound down, the car and track came around to the second running driver. Sodeman drew wheel to wheel with Groves with two laps to go using the bottom grove but couldnt make the pass for the lead. Then on the final circuit, Sodeman gassed it up at the end of the back stretch and came up with a perfectly executed slide job coming out of turn four to take the feature in a thrilling finish as Groves and Weaver rounded out the podium.
Following the night on the track, Annuouncer Eric Westendorf and Public Relations Director Gary Heeman went straight to the studio to record The Action Track Podcast, recapping the night of racing that was on Friday night. They were joined in studio by two time Peoples Natural Gas Sprint Car Champion and RUSH Sprint Car feature winner Jack Sodeman Jr. who gave a very candid full feature length interview. To listen to Fridays Action Track Podcast CLICK HERE
Racing resumes on Friday, October 9 as we conclude the regular season with the final Fab4 Friday Revved up with Marburger Farm Dairy. The evening will be highlighted by the 2nd Annual Chad McCutcheon Memorial Night, featuring some extra money for all divisions and fundraising for the Juvenille Diabetes Research Foundation, a cause very close to Chad who was a tremendous supporter of the racing at Lernerville Speedway. It will also be a $4,000 œPad the Purse? night presented by Phil DiLucente and Associates. Two of the weekly Fab4 divisions will see their purses increased by $2000 each and dispersed $200 per top 10 finishing positions. 
Peoples Natural GasDIRTcar 410 Sprint Feature: (25 Laps)
(2) A.J. Flick(29) Michael Bauer(08) Dan Kuriger(42) Sye Lynch(7K) Dan Shetler(23jr) Jack Sodeman Jr. (13) Brandon Matus(7NY) Matt Farnham(11) Carl Bowser(33) Brent Matus(90) Jordan Givler(14z) Wyatt Zimmerman(76)Davey Jones(G1) Mike Miller(14H) Jeremy Hill(10P) Jim Perricone(55*) Matt Sherlock(70) Henry Malcuit(23) Darren Pifer(12J) Jonathan Jones
(22) Brandon Spithaler- Did Not Start
(154) Shamus ODonnell-Did Not Start
(27) Zach Morrow- Did Not Start
Diehl Automotive DIRTcar Northeast Big Block Modified Feature: (25 Laps)
(7MM) Michael Maresca(83) Brian Swartzlander(29) Garrett Krummert(61) Dave Murdick(45) Steve Feder(165) Rex King Jr. (18W) Colton Walters(65) Rex King Sr. (35) Steve Slater(22) Kevin Long(88) Shawn Fleeger(5) Brian Sadler(3K) Shawn Kozar(45F) Matt Feder(37MD) Jeremiah Shingledecker(32R) Chris Rudolph(4J) John Mollick(72M) Jacob McElravy(96) Mike Turner
Millerstown Pic-A-Part DIRTcar Pro Stocks Feature: (20 Laps)
(81D) Duke Davidson(22J) Chase Lambert(66) Joe Kelley(948) Joey Zambotti(26) Mike Bordt(81) Mike Miller(79) Tommy Dembowski(4) Brett Hutira(54E) Tony Iarrapino(5) James Bertges(56) Bryan Wagner(74) Chris Schneider(02) Dakota Heinl(25) Brett McDonald
RUSH Sprint Car Feature: (15 Laps)
(8W) Jack Sodeman Jr. (25) Nolan Groves(41) Jeremy Weaver(69) Brian Hartzell(24) Gale Ruth Jr. (9J) Andy Feil(36) Shawn Smith(8B) Brian Woodhall(14) Rick Regalski(21) Steve Pedley(27M) Zach Morrow(57N) Tyler Newhart(69x) AJ MacQuarrie(62) Brian Cressley(16c) Amelia Clay(29) Brandon Shughart(10) Brandon Blackshear
Amick Associates Heat 1 for Peoples Natural Gas Sprints:
(11) Carl Bowser(13) Brandon Matus(42) Sye Lynch(76) Davey Jones(23) Darren Pifer(G1) Mike Miller(14z) Wyatt Zimmerman
(22) Brandon Spithaler- Did Not Start
Glassmere Fuel Service Heat 2 for Peoples Natural Gas Sprints:
(7K) Dan Shetler(7NY) Matt Farnham(12J) Jonathan Jones(23j) Jack Sodeman Jr. (10P) Jim Perricone(90) Jordan Givler(14H) Jeremy Hill(55*) Matt Sherlock
Ferguson Heating and Air Conditioning Heat 3 for Peoples Natural Gas Sprints:
(29) Michael Bauer(08) Dan Kuriger(2) A.J. Flick(70) Henry Malcuit(33) Brent Matus(27) Zach Morrow(154) Shamus ODonnell
GetPhil.com Heat 1 for the RUSH Sprint Cars:
(24) Gale Ruth Jr. (69) Brian Hartzell(27M) Zach Morrow(9J) Andy Feil(14) Rick Regalski(21) Steve Pedley(57N) Tyler Newhart(69x) Aj MacQuarrie(62) Brian Cressley
American Steel Procesing Heat 2 for the RUSH Sprint Cars:
(8) Jack Sodeman Jr. (41) Jeremy Weaver(36) Shawn Smith(10) Brandon Blackshear(25) Nolan Groves(8B) Brian Woodhall(16c) Amelia Clay(29) Brandon Shughart
McCutcheon Enterprises Heat 1 for Diehl Modifieds:
(45) Steve Feder(35) Steve Slater(32R) Chris Rudolph(4J) John Mollick(29) Garrett Krummert(18W) Colton Walters(22) Kevin Long(5) Brian Sdler(3K) Shawn Kozar(45F) Matt Feder
Thermo Twin Windows Heat 2 for Diehl Modifieds:
(61) Dave Murdick(37MD) Jeremiah Shingledecker(83) Brian Swartzlander(96) Mike Turner(7MM) Michael Maresca(165) Rex King Jr.(65) Rex King Sr.(72M) Jacob McElravy(88) Shawn Fleeger
Thoma Meat Market Heat 1 for the Millerstown Pic-A-Part Pro Stocks:
(81D) Duke Davidson(79) Tommy Dembowski(81) Mike Miller(948) Joey Zambotti(56) Bryan Wagner(26) Mike Bordt(4) Brett Hutira
Hovis Auto and Truck Supply Heat 2 for the Millerstown Pic-A-Part Pro Stocks:
(22J) Chase Lambert(66) Joe Kelley(25) Brett Mc Donald(74) Chris Schneider(5) Gary Churchfield(54E) Tony Iarrapino(01) Dakota Heinl
Car Count Total: 73
Peoples Natural Gas Sprints: 23
Diehl Modifieds: 19
Millerstown Pic-A-Part DIRTcar Pro Stocks: 14RUSH Sprint Cars: 17
Back to News