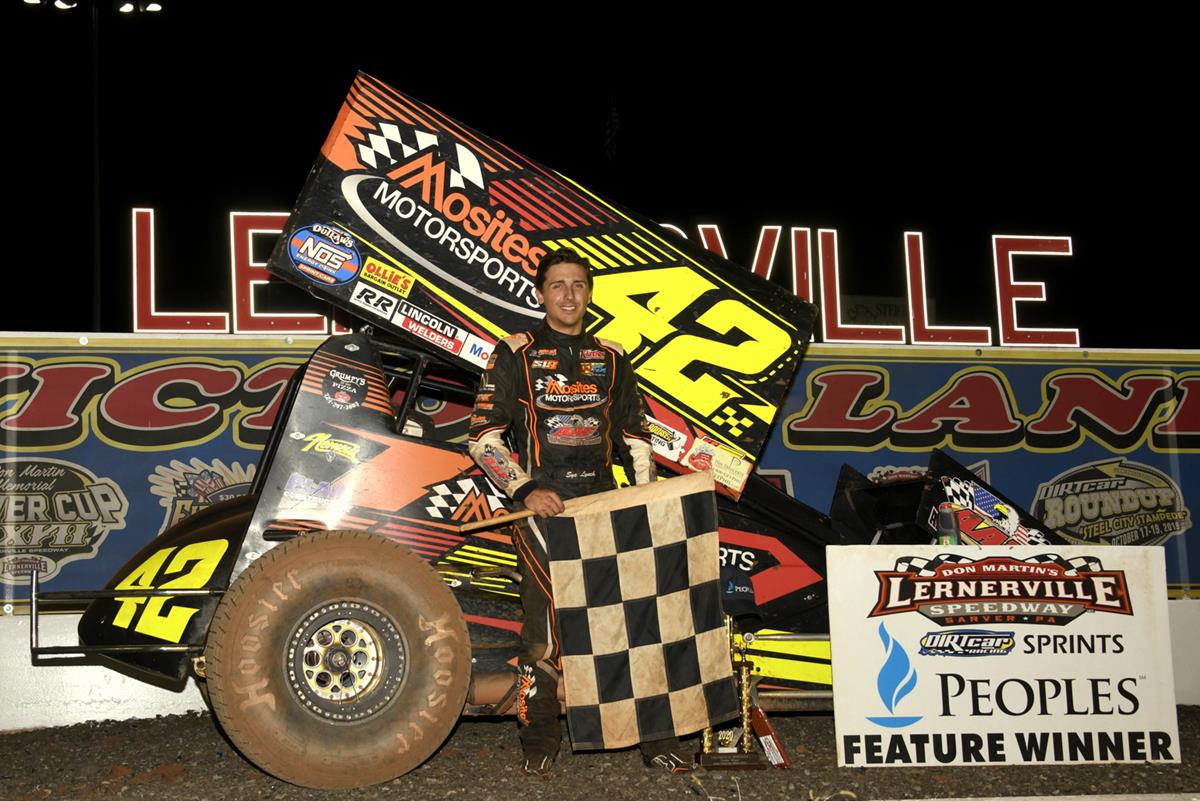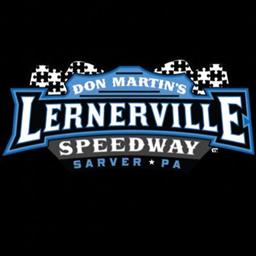 10/10/2020
Lernerville Speedway
---
Lernerville Quick Results 10.9.20
Sarver, PA (October 10, 2020) Champions were crowned on Friday night at Lernerville Speedway as four fantastic feature events closed out the weekly Fab4 racing season to the delight of the crowd who turned out to witness the second annual Chad McCutcheon Memorial. With extra money on the line in all divisions, the racing was hotly contested and over $5,000 was raised for the Juvenile Diabetes Research foundation with the help of donations organized by McCutcheon Enterprises in honor of the late Chad McCutcheon.
On the track, Jeremiah Shingledecker brought his winless streak to an end in the Diehl Automotive DIRTcar Big Block Modified main event after taking the lead back from a determined Brian Swatzlander in the waning laps. Meanwhile, Sye Lynch pursued race leader Michael Bauer into considerable lapped traffic and emerged with his first win of the season in Peoples Natural Gas DIRTcar Sprint action.
Jared Miley and Michael Norris returned to the Action Track on Friday night and brought the fans out of their seats as the two former track champions traded the lead in the final two laps with Miley making his way back around Norris before the finish line in the Precise Racing Products DIRTcar Late Model main event. And in the Millerstown Pic-a-Part DIRTcar Pro Stock feature, Joey Zambotti took the lead from early font runner Duke Davidson and never looked back en route to his fourth win of the 2020 campaign at Lernerville.
AJ Flick capped off a strong 2020 run which saw him dominate the second half of the season as he clinched his fourth Sprint Car championship, while Garrett Krummert etched his name in the record books as a champion for the first time in his career with the Big Block Modifieds. Ken Schaltenbrand and Tyler Dietz went back to back in claiming consecutive titles in Late Model and Pro Stock divisions respectively, adding to their ever growing list of accopmlishments at The Action Track.
Full recap to follow.
Peoples Natural GasDIRTcar 410 Sprint Feature: (25 Laps)
(42) Sye Lynch(29) Michael Bauer(2) A.J. Flick(13) Brandon Matus(7NY) Matt Farnham(11) Carl Bowser(23jr) Jack Sodeman Jr. (22) Brandon Spithaler(7K) Dan Shetler(33) Brent Matus(18J) R.J. Jacobs(08) Dan Kuriger(23) Darren Pifer(12G) Darrin Gallagher(76) Davey Jones(44L) Pete Landram(12J) Jonathan Jones(25) Jarrett Rosencrance(66) Ken Rossey(55*) Matt Sherlock(14H) Jeremy Hill
Precise Racing Products DIRTcar Late Model Feature: (25 Laps)
(10M) Jared Miley(72) Mike Norris(29) Ken Schaltenbrand(9T) Will Thomas(91) Tommy Beck(48) Colton Flinner(77) Tyler Dietz(10) Gary Lyle(9Y) Levi Yetter(81) Mike Miller(92) Jayme Beck(15*) Kelvin Kohan(55) Chris Schneider(14R) Clay Ruffo(B8) Tom Bateman(9) Clayton Kennedy(66) Todd Bachman
Diehl Automotive DIRTcar Northeast Big Block Modified Feature: (25 Laps)
(37md) Jeremiah Shingledecker(83) Brian Swartzlander(61) Dave Murdick(18W) Colton Walters(35) Steve Slater(32R) Chris Rudolph(13) Rick Regalski(5) Brian Sadler(64) Rodney Beltz(03) Mark Frankhouser(3K) Shawn Kozar(45F) Matt Feder(44) Pete Landram(72M) Jacob McElravy(29) Garrett Krummert(4J) John Mollick(96) Mike Turner
Millerstown Pic-A-Part DIRTcar Pro Stocks Feature: (20 Laps)
(948) Joey Zambotti(C33) Corey McPherson(73) Jason Fosnaught (27) Tyler Dietz(25) Brett McDonald(66) Joe Kelley(10) Nick Kocuba(22JR) Chase Lambert(V2) Bob Connor(54E) Tony Iarrapino(310) Dale Tuche(26) Mike Bordt(5) Gary Churchfield(19M) Ryan Maglione(81D) Duke Davidson(81) Mike Miller
Amick Associates Heat 1 for Peoples Natural Gas Sprints:
(11) Carl Bowser(12G) Darin Gallagher(42) Sye Lynch(18J) R.J. Jacobs(66) Ken Rossey(44L) Pete Landram(14H) Jeremy Hill
Glassmere Fuel Service Heat 2 for Peoples Natural Gas Sprints:
(13) Brandon Matus(29) Michael Bauer(2) A.J. Flick(23jr) Jack Sodeman Jr. (22) Brandon Spithaler(08) Dan Kuriger(76) Davey Jones
Ferguson Heating and Air Conditioning Heat 3 for Peoples Natural Gas Sprints:
(7k) Dan Shetler(7NY) Matt Farnham(33) Brent Matus(12J) Jonathan Jones(23) Darren Pifer(25) Jarrett Rosencrance(55*) Matt Sherlock
GetPhil.com Heat 1 for the Precise Racing Products DIRTcar Late Models:
(10M) Jared Miley(77) Tyler Dietz(91) Tommy Beck(48) Colton Flinner(81) Mike Miller(55) Chris Schneider(14R) Clay Ruffo(B8) Tom Bateman
American Steel Procesing Heat 2 for the Precise Racing Products DIRTcar Late Models:
(72) Mike Norris(9T) Will Thomas(15*) Kelvin Kohan(29) Ken Schaltenbrand(9) Clayton Kennedy(9Y) Levi Yetter(92) Jayme Beck(10) Gary Lyle(66) Todd Bachman
McCutcheon Enterprises Heat 1 for Diehl Modifieds:
(35) Steve Slater(4J) John Mollick(18W) Colton Walters(83) Brian Swartzlander(03) Mark Frankhouser(96) Mike Turner(3K) Shawn Kozar(64)  Rodney Beltz(72M) Jacob McElravy
Thermo Twin Windows Heat 2 for Diehl Modifieds:
(29) Garrett Krummert(37md) Jeremiah Shingledecker(61) Dave Murdick(13) Rick Regalski(45F) Matt Feder(32R) Chris Rudolph(22) Kevin Long(5) Brian Sadler
Thoma Meat Market Heat 1 for the Millerstown Pic-A-Part Pro Stocks:
(948) Joey Zambotti(27) Tyler Dietz(10) Nick Kocuba(54E) Tony Iarrapino(C33) Corey McPherson(V2) Bob Connor(5) Gary Churchfield(19M) ryan Maglione
Hovis Auto and Truck Supply Heat 2 for the Millerstown Pic-A-Part Pro Stocks:
(25) Brett McDonald(73) Jason Fosnaught(81) Mike Miller(81D) Duke Davidson(66) Joe Kelley(26) Mike Bordt(310) Dale Tuche(22JR) Chase Lambert
Car Count Total: 72
Peoples Natural Gas Sprints: 21
Precise Racing Products Late Models: 17
Diehl Modifieds: 18
Millerstown Pic-A-Part DIRTcar Pro Stocks: 16
Back to News