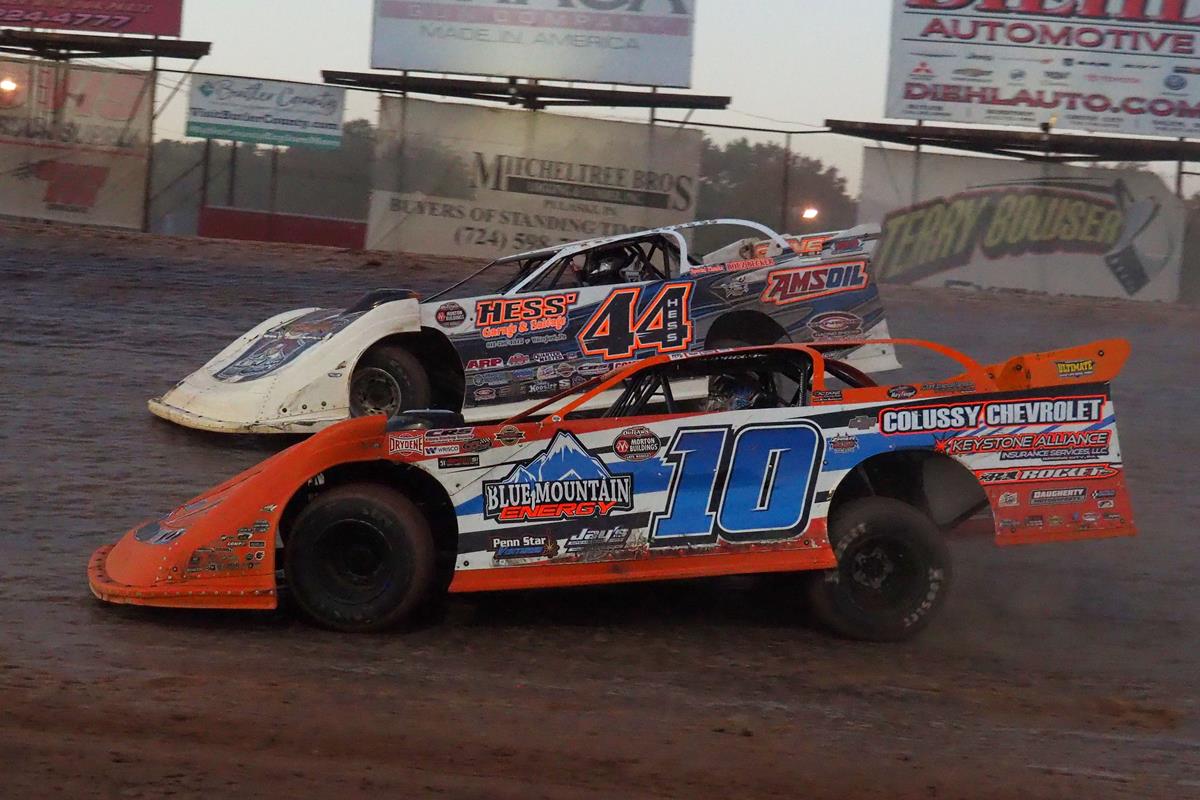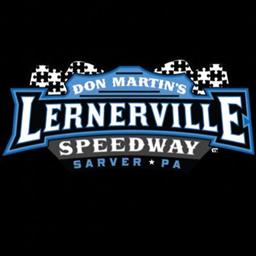 10/18/2020
Lernerville Speedway
---
Quick Results- Steel City Stampede Night Two 10.17.20
Sarver, PA (October 17, 2020) The 12th Annual Steel City Stampede drew to a close on Saturday night and saw a record 332 cars competing in 13 main events and the 100 Lap Enduro to close out the weekend. 2020 Sprint Car Champion AJ Flick put an exclamation point on his season with a solid peformance that saw him capture his second career Stampede feature win while in Late Model Action, Jared Miley emerged from a three car battle with Dave Hess Jr. and Max Blair on the final lap to score his second career belt buckle trophy.
Rex King Sr. was able to chase down and pass race leader Rex King Jr. in the waning laps of the Big Block Modified main event to earn his first career Stampede win while in Pro Stock action, Curtis Bish struck pay dirt at The Action Track with extra money on the line in 2020 once again. Bish, who took home $1,000 earlier in September as winner of the Penn-Ohio Pro Stock Series event, took a hard fought victory in the main event following a clean, hard side by side battle with four time feature winner in 2020, Joey Zambotti.
In RUSH Late Model action, Max Blair took his second consecutive, and third overall belt buckle trophy with his win in the 25 lap, $2,000 to win main event with Gale Ruth Jr. and Chas Wolbert taking feature wins in the RUSH Sprint Car and RUSH Sportsman Modified main events respectively. Brian Ruhlman once again invaded The Action Track, competing in three divisions on the weekend and was able to find Terry Bowser Excavating Victory Lane in the 20 lap UMP DIRTcar Modified main event while Dustin DeMattia bested the competition in Elite Modified Series action. Greg Dobrosky was once again standing atop the field when all was said and done in 305 RaceSaver Sprint Car action as he made his way past early leader Andy Cavanaugh and never looked back en route to an $800 main event win. Kyle Lukon found himself in unfamiliar circumstances on Saturday night as the Crate Late Model racing star was summoned to partake in the 15 lap Super 6 Late Model main event and he did not disappoint, coming from the rear of the 10 car field to the front en route to the $700 feature victory. Josh Frantz took home his second career belt buckle, winning the 15 lap 4 cylinder Main Event while Noah Wirginis was the class of the field in 270cc Micro Sprint racing action. Tim McVay took the honors in the 100 Lap Enduro to close out the night on the track.
The weekend brought the 2020 Lernerville Speedway season to a close as a busy off season awaits the staff as we prepare for an action packed 2021 at The Action Track. Stay tuned to our social media channels on twitter and facebook and our website at Lernerville.com for the latest news and information.
Peoples Natural Gas DIRTcar Sprints- $3,000 to win
(2) AJ Flick(11) Carl Bowser(08) Dan Kuriger(42) Sye Lynch(13) Brandon Matus(12) Darin Gallagher(4J) John Garvin(23JR) Jack Sodeman Jr. (33) Brent Matus(23) Darren Pifer(23F) DJ Foose(38) Leyton Wagner(76) Davey Jones(80JR) Kyle Colwell(10J) CJ Jones(4K) William Kiley(G1) Mike Miller(86) Michael Lutz Jr.(55) Matt Sherlock
DIRTcar Late Model Main Event- $3,000 to win
(10M) Jared Miley(44) Dave Hess Jr.(111) Max Blair(4S) David Scott(111L) Matt Lux(72) Michael Norris(48) Colton Flinner(30) Bryce Davis(40) Clinton Hersh(77) Tyler Dietz(12) Ryan Montgomery(X3) Wyatt Scott(10) Gary Lyle(9T) Will Thomas(18) Mike Wonderling(01W) Khole Wanzer(29) Ken Schaltenbrand(81) Mike Miller(3) Wyatt Scott(14R) Clay Ruffo(1C) Mike Pegher Jr. (4) Alex Ferree(9Y) Levi Yetter(49) Brian Ruhlman
DIRTCar Northeast Big Block Modifieds- $3,000 to win
(65) Rex King Sr.(165) Rex King Jr.(37MD) Jeremiah Shingledecker(29) Garrett Krummert(32) Jim Rasey(61) Dave Murdick(4M) Greg Martin(96) Mike Turner(55) Rob Kristyak(64) Rodney Beltz(13) Rick Regalski(03) Mark Frankhouser(5) Brian Sadler(22) Kevin Long(3K) Shawn Kozar(72M) Jacob MceLravy(35) Steve Slater(83) Brian Swartzlander(75) Jeff Miller
DIRTcar Open Pro Stock Main Event - $1,000 to win
(29) Curtis Bish(948) Joey Zambotti(55) Chris Schneider(114) Daryl Charlier(45) Todd Weldon(27) Tyler Dietz(81) Mike Miller(72A) Mike Anderson(43JR) Blaze Myers(54J)Jimmy Combs(10) Nick Kocuba(24W) Eric Wise(19M) Ryan Maglione(25) Brett McDonald(22JR) Chase Lambert(28) Brandon Birdsall(3C) Barry Faris(310) Dale Tuche(V2) Bob Connor(73) Jason Fosnaught(24) Tyler Wyant(5B) Jason Black(79) Tommy Dembowski(81D) Duke Davidson(36) AJ Poljak- Did Not Start
RUSH Late Model Main Event $2,000 to win:
(111) Max Blair(10S) Joe Martin(91) Chad Homan(3J) Jeremy Wonderling(4) Jason Knowles(8S) Tommy Schirnhofer(60M) Colton Flinner(33) Josh Ferry(16T) Clayton Tarabori(7) Brian Knowles(11F) Ryan Frazee(1Z) Logan Zarin(948) Joey Zambotti(21J) Jim Rasey(01W) Khole Wanzer(26) Kurt Stebbins(41B) Collin Burke(21) Kyle Murray(33X) Eric Hamilton Jr. (09) Bill Kessler(90J) Michael Duritsky Jr. (184X) Levi Spinneweber(184) Cole Petrelle(27T) Tony White
RUSH Late Model Last Chance Showdown #1:
 (3J) Jeremy Wonderling(27T) Toy White(15X) Zach Kane(112) Jacob Peterson(6R) Chuck Recker(47L) Brandon Lott(3N) Denny Nakutis
RUSH Late Model Last Chance Showdown #2:
(01W)Khole Wanzer(41B) Collin Burke(58) Joe Zulisky(521) Jason Harmon(31) J.J. Nakutis(72B) Kassidy Kamicker
DIRTcar 4 Cylinder Last Chance Showdown #1:
(13) Greg Kiehl(1) Benjamin Lehane(W5) Bill Hassenplug(71) Matt Knight(19A) Bill Eckenrode(91E) Skyler Eckenrode(64) John McCracken(54) Garrett Reinwald(727R) Dustin Gibbons(516) Chad Brandt(13J) Jay Swager Jr.(223) Cameron Lambert(59) Jerry Batcher- Did Not Start
DIRTcar 4 Cylinder Last Chance Showdown #2:
(8H) Joe Huber(78) Chris Knight(27X) Mitchell Rex(713) Joe Huffman(88M) Wyatt Mock(42) Kelly Clark(88) Kyle Janas(119) Todd Davis(CO4) Dave Siebert Jr.
DIRTcar Super Late Model Last Chance Showdown:
(18) Mike Wonderling(9Y) Levi Yetter(49) Brian Ruhlman(10) Gary Lyle(3) Kyle Scott(14R) Clay Ruffo(55) Chris Schneider(15X) Kelvin Kohan(217) Howard Fraley(65) Derek Stefanick(J19) Jason Fosnaught- Did Not Start
DIRTcar UMP Modified Main Event- $1,500 to win:
(49) Brian Ruhlman(71D) Dan Davies(11M) Mike McGee(27R) Steve Rex(5) Jonathan Taylor(2J) Troy Johnson(92) Joel Watson(68) Randy Hall(71L) Dennis Lunger(7) Evan Taylor(73C) Bill Pluta Jr.(83) Brian Class(2G) Jesse Gould(3) Denny Nakutis(17G) Brandon Grossman(15) Rick Potter(12R) Ty Rhoades(11) Dale Charlier(6M) Carl McKinney- Did Not Start
Allegheny 305 RaceSaver Sprint Car Main Event $800 to win:
(88) Greg Doborosky(X7) Andy Cavanaugh(4J) Jacob Gomola(80JR) Kyle Colwell(347) Nevan ODonnell(16) Jim Morris(56) Steve Cousins(27H) Dave Hawkins(25) Jarrett Rosencrance(97) JR Jameson(92) Justin Kovach
RUSH Wingless Sprint Car Main Event $800 to win:
(24) Gale Ruth Jr.(49) Brian Ruhlman(8B) Brian Woodhall(27M) Zach Morrow(21) Seve Pedley(9J) Andy Feil(69) Brian Hartzell(14) Rick Regalski(8) Jack Sodeman Jr.(29) Brandon Shughart(25) Nolan Groves(36) Blaze Myers(27) Dave Hawkins(10) Brandon Blackshear(69X) A.J. MacQuarrie(57N) Tyler Newhart(16C) Amelia Clay
RUSH Sportsman Modified Main Event- $800 to win:
(C3) Chas Wolbert(10S) Garrett Krummert(9D) Josh Deems(63T) Tony Tatgenhorst(00) Rob Kristyak(55R) Clayton Deems(7) Jacob Wolfe(2) Kole Holden(28J) Jacob Jordan(35) Steve Slater(25) Greg Porter(10) Chelsie Kriegisch(11J) David Kalb Jr.(0) Mike Smith(14) Brian Schaffer(119) Joe Gibson(17) Brandon Ritchey
Elite Modifed Series Main Event $500 to win:
(77D) Dustin DeMattia(83) Jeremy Double(7G) Garrett Calvert(98) Eric Wilson(64) Chris Schneider(J19) Jason Fosnaught(42) Nate Young(17G) Dennis Dellinger(21)  Jarrett Young(75) Travis Creech(05) Adam Peterson(1) Vincent DePizzo(11H) Russ Dunn(23) Gary Olson(18) Travis Thomas
Super 6 Late Model Main Event- $700 to win
(10) Kyle Lukon(27X) Dylan Morando(36S) Curtis Stivason(1P) Rod Phillips(14B) Greg Beach(12) Mat Cajka(34) Ed Dunkel(18) Jason Willard(2J) Dennis Jerko(14) Ethan Thompson- Did Not Start
Four Cylinder Main Event-$500 to Win:
(114) Josh Frantz(42H) Jeff Huber(2L) Philip Bubeck(8H) Joe Huber(210) Dylan Burkett(78) Chris Knight(81S) David Smail(27X) Mitchell Rex(59) Jerry Batcher(36F) Zack Frantz(71) Mike Knight(2) Bill Tennant(27) Robert Siegel(09) Tyler Fulton(69ER) Mike Phillipson(13) Greg Kiehl(713) Joe Huffman(25B) Brooks Kaufman(19H) Adam Pletcher(1) Benjamin Lehane(W5) Bill Hassenplug(34) JR Shaner(17) Joe Campbell(21) Ricky Weaver
270cc Micro Sprint Main Event:
(7) Noah Wirginis(19) Stevie Daron(15H) Luke Halis(74) Matt Gardina(4X12) Garth Fochler(20) Anthony Mohrbacher(91) Brandon McWilliams(10L) Greg Lazzara
100 Lap Enduro
(24) Tim McVay(61) Jonathan Sherwin(76) Tony Biscardi(01) Stan Watkins(5) Bryan Shaffer(c13) Michael Roberts(98) Steve Ace(57) Devin Thompson(86) Brad Gamble(36) Robert Wellman(17M) Rusty Moore(21) David Leining(20) Clay Garing(26T) John Turner(39) Jim Strickler(29) Mike Cole(3K) Matt iesel(56J) Justin Snudderly(019) Cory Stiger(222) Anthony George(50) Ty Ohle(66) Matt Miller(60) Wilson Greenfield(58) Dave Mock(01)- Name Not on Registration(16) Luke Garling(24) Frank Ruminer(10) Krag Helit(789) William Henderson(66) Ron Hein(284) Tyler Lamacz(21) Name Not on Registration(118) Mike Dobrick(07) Tyler Nelson(57) Dillon Kinneston(003) David Kline(35) Hunter Cascio(55) Pete Blazczak(222) Jeff Barriceula(38J) Amanda Jackson(21) Nick Pope(17F) Matt Feder(11) Clinton Hersh(23) Dalton Jones(39) Cody Pyle(83) Ed Vogel(187) Donald Fonzi(7m) Martin Ceasar(01) Shawn Watkins(94) Aaron Snyder(42) Josh Kennedy(77X) James Jones(13) Frank Miller(5) Justin McDaniel(A93) Alec Novak(68) Russell Moore(M5) Christian Schneider(18) No Name Registered(2) No Name Registered(3) Julia Burgard(38M) Joe Manuel(37) Wyatt Mock(36m) Josh Holzwafth(55) Ed Albright(00) Cole Miller(77) Jocelyn Adley(8J) Joe Switzer(26) Brad Shaffer
DIRTcar Sprints: 19
DIRTcar Late Models: 29
DIRTcar Big Block Modifieds: 19
DIRTcar Open Pro Stocks: 25
DIRTcar UMP Modifieds:19
RUSH Late Models: 33
RUSH Sprint Cars: 17
RUSH Sportsman Modifieds: 17
Elite Modifieds: 15
305 Sprint Cars: 11
Super 6 Late Models: 10
4 Cylinders: 41
270 cc Micro Sprints: 8
Enduros: 68
Total Car Count: 332
Back to News