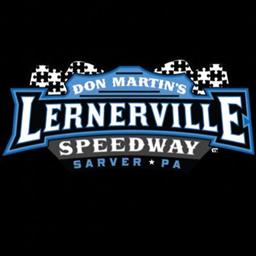 10/4/2022
Lernerville Speedway
---
2022 Lernerville Speedway Fab4 Season Review: Precise Racing Products Late Models
Ryan Neiderlander Photo
Sarver, PA (October 4, 2022) For the second year in a row, Lernerville Speedway crowned a first-time champion in the Precise Racing Products Late Models division as teammate to the 2021 Champion Colton Flinner, John Garvin Jr., claimed his first ever Lernerville Track Championship in 2022. In a year where there were no repeat winners in Fab4 Revved Up with Marburger Farm Dairy competition, Garvin used consistency and one win to take the title by 46 points over Colton Flinner.
The Fab4 season was kicked off on Friday, April 22 with Jared Miley taking the ˜Opening Night win. After a week off for the Tezos All Star Circuit of Champions Sprints and a rainout on May 6, the Precise Late Models returned on May 13 with the United Late Model Series (ULMS) for a $3,500 to-win feature. Former Lernerville Speedway regular turned regional and national star, Gregg Satterlee picked up the big win before Colton Flinner bagged his first and only win of the 2022 season on June 3.
John Garvin found victory lane on ˜#1 Cochran Fan Appreciation Night in which Garvin stated was the same night his last Lernerville win came on. The win was extra special for Garvin as 2022 is his first season back in a Late Model since 2014. Garvin tried his hand at Sprint Car racing for a few years after the 2014 season making him one the very few, if not only driver to compete in both All Star Sprint Cars and All Star Late Models series events.  
After Garvins win the week before, he now held the point lead heading into the Mid-Season Championships on June 17. With a guaranteed spot on the line for the following weeks ˜Firecracker 100 presented by Big River Steel, Floridian Mark Whitener came to town and took the lead from multi-time track champion, Mike Norris on lap 12 enroute to his only Fab4 win at ˜The Action Track to claim the guaranteed spot in the 16th annual Firecracker.
To close out the month of June, on June 23, 24, & 25, the Lucas Oil Late Model Dirt Series invaded Lernerville for the very first time during the 16th Annual ˜Firecracker 100 presented by Big River Steel that paid a record $50,000 to the winner. Before the huge 100-lap main event were two $6,000 to-win 25-lap preliminary features that were both won by Tennessees Mike Marlar. A record crowd saw Tim McCreadie capture his second career Firecracker 100 after he lead all 100 laps to pocket the $50,000 top prize.
Mike Norris opened the month of July with a win on July 8 while young up-and-comer Logan Zarin found himself in Terry Bowser Excavating Victory Lane for his first ever Super Late Model win on July 15. After the RUSH Summer Showcase gave the Precise Late Models a week off, Daryl Charlier snagged his first ever Lernerville Speedway Super Late Model win on July 29. Georgian Ashton Winger claimed the win on August 19 in the same Big Frog Motorsports car that Mark Whitener won in on June 17. Just like that it was Championship Night and Tyler Dietz, who had been knocking on the door all year long looking for his first Late Model win, finally broke through to claim the win on September 2.
With a 33-point lead heading into Championship Night, all Garvin needed to do was start his heat race to claim his first track title. Garvin finished the night 46 points ahead of teammate Colton Flinner after his third-place finish to claim the Championship.
˜No not at all, 2022 Precise Racing Products Late Model Champion John Garvin, Jr., said in Victory Lane after being asked if he saw himself winning the track championship in his first year back in a Late Model since 2014. ˜Mark (Flinner) called a couple times before the season started and we made the deal (to drive a second John Johnson owned car) two weeks before Lernerville was supposed to open but we rained-out a couple of times, so we went to Port Royal. But no, I was kind of hoping for a couple top-tens, a few top-fives maybe a third or something but, not what we did. I honestly didnt know if I was going to be able to do it, Garvin said about his transition back into a Late Model after a few years driving a 410 Sprint Car. ˜The cars are so different than what I ran in the past, then coming back from the Sprint Cars, I wasnt real good the first two or three nights out there (Port Royal), but then we came here first night and I felt pretty comfortable and felt comfortable all year except for maybe two or three nights. I just need to thank everyone; it takes everyone for me to be able to do this.
Following Garvin, who also claimed the 1-800-GetPhil Heat Race Bonus for the Precise Late Models, in the 2022 Point Standings was Flinner in second, 46-points behind the champion. Logan Zarin was third on the year ahead of Levi Yetter and Ken Schaltenbrand in fifth. Gary Lyle was sixth with Alex Ferree seventh, Mike Miller was eighth, Matt Lux in ninth and Jared Miley rounded out the top-ten.
The Precise Late Models will team up again with the ULMS Late Models during the 14th Annual Steel City Stampede LIVE on LernervilleTV. The Late Models will be joined by the Peoples Natural Gas Sprints and Ti22 Performance Sprints, Diehl Automotive/BRP Big Block Modifieds, Millerstown Pic-A-Part/Penn Ohio Pro Stocks, the Hovis Auto & Truck Supply RUSH Late Models, Sprints, and Sportsman Modifieds as well as E-Mods, Allegheny 305 Sprint Tour, Costa Oil Mini Stocks, and a 100 lap Enduro. For more information for the 14th Annual Steel City Stampede LIVE on LernervilleTV, please visit https://lernerville.com/steel-city-stampede/.
If you cant join us in person at the track for the 14th Annual ˜Steel City Stampede LIVE on LernervilleTV you can still be a part of the action from the comfort of your own home and catch every single lap of action exclusively and only on LernervilleTV. Thursday nights practice night can be purchased for $10.00; Friday nights preliminary action is $20.00 while Saturdays Stampede finale is $30.00. However, the best deal is for the complete three-day package that is listed as $45.00. And of course, if you have already purchased the monthly package, the 14th Annual ˜Steel City Stampede LIVE on LernervilleTV is included in your monthly subscription.
To get your advance tickets for the ˜Steel City Stampede LIVE on LernervilleTV and more information on Lernerville Speedway, please visit www.Lernerville.com. For more information on the United Late Model Series, please visit www.ulmsracing.com. For more information on the RUSH Racing Series, please visit www.rushracingseries.com. For more information on the BRP Modified Series, please visit www.themodifiedtourinc.com. For more information on the Penn/Ohio Pro Stocks, please visit www.pennohioprostocks.com.
For more information on Lernerville Speedway including schedule, ticket prices, and FAQs, please visit www.Lernerville.com.
Back to News