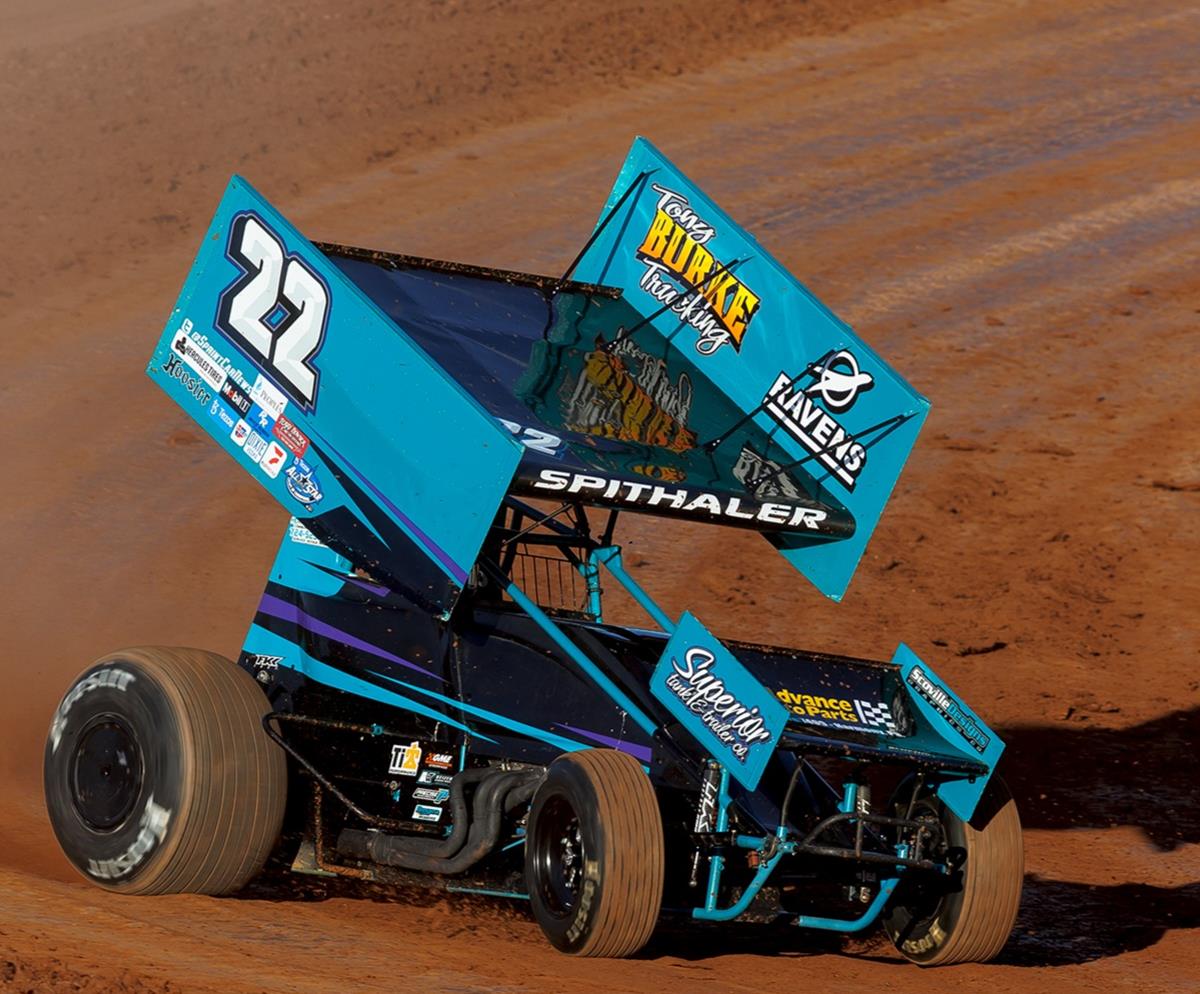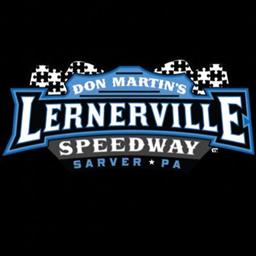 5/6/2023
Lernerville Speedway
---
Spithaler Scores Sprint Win; Williamson Returns and Tames Big Blocks; Norris Survives and Thrives; Dietz Collects 1st
Sarver, PA (May 6, 2023) The sun's appearance on Friday was a very welcome sight for the World's Finest Race Fans who'd waited through six straight days of rain and cool temperatures, wondering if racing was even possible. But, Mother Nature gave The Action Track a reprieve from the last, late dash of wet spring conditions to provide ample sunshine which, when combined with a week's worth of moisture, led to a racing surface that kept the 80 drivers on hand guessing as to how it would all play out. The answer was a 'cowboy up' track that emerged under a full moon nonetheless, that was challenging, yet provided an entertaining night of racing as the Fab4 features rolled to the speedway. When all was complete, Michael Norris found himself standing in Terry Bowser Excavating Victory Lane, having won a battle of attrition in a caution plagued Precise Racing Products Late Model main event. Four-time track champion Mat Williamson returned home so to speak, to collect his 32nd career feature win in Diehl Automotive Big Block Modified action. Brandon Spithaler then broke through on a track well suited to the pilot's taste to score his first feature win in over six years in the Peoples Natural Gas Sprint Car main, and Jake Dietz scored his first career win in hard fought fashion with the Millerstown Pic-A-Part Pro Stocks, capping a night of racing to remember.
Norris Survives and Thrives in Battle of Attrition
It was a familiar car and driver that made its way to victory lane on Friday night. And though they are just getting used to each other, the combination of former track champion Michael Norris and car owner Joe Corrado is already proving to be a good one early on. Norris found himself starting third on the starting grid in the Late Model main event behind a front row consisting of Levi Yetter and Eric Wilson and he wasted little time establishing himself as the driver to beat. Following a lap two caution, Norris found himself outside on the front row where he used the high side momentum to rocket around Yetter and into the early lead. Behind him, Mat Lux was making a charge towards the front, moving from his ninth starting spot to fourth while Colton Flinner moved forward from eighth into the second spot in an early race flurry of action that saw three wide battles before a lap six caution halted all momentum.
When action got back underway, Norris elected to use the low side on the restart and maintained a tenuous lead over Flinner who was at his rear quarter panel, ready to strike. Norris gained some amount of separation in the laps that followed until the third yellow flag waved on lap 10. Behind the front row, Wilson, Lux, John Garvin Jr. and Yetter comprised a formidable chase pack but were denied any chance at using any type of green flag momentum as back to back cautions struck near the halfway point, the second of which found Garvin and Mike Miller both in the front stretch wall ending the night for each driver. Meanwhile, Lux earned the third spot at the line just before the caution. When the green flag waved, Norris kept the lead ahead of Flinner, Wilson, Lux and Dietz until Lux slowed and Clayton Kennedy found himself facing the wrong way in turn two with 13 laps in the books.
Eight cars remained for the restart and when the action got back underway, Flinner had found momentum on the top side and looked poised to make a run for the lead down the backstretch when his car moved just a fraction too high to stay on the track coming out of turn two, possibly trying to avoid contact with Norris who had moved up from the bottom groove exiting turn two. Flinner stopped on the speedway, bringing out the caution and then expressed his displeasure at Norris, swerving ahead of the race leader and then coming down him in turn two on the caution lap while perhaps making contact which earned him a disqualification for the night. Norris then found himself alongside Wilson on the restart and quickly put distance between himself and his closest pursuers, surviving two more restarts along the way, Norris was able to keep the remaining cars in the field behind him the rest of the way as Wilson staved off a late race attempt from Dietz to take the second spot.
"It was trying for sure," Norris said. "It seems like a lot of times I'm leading there's a couple restarts. I feel like I don't need any more practice, but they really like to give them to me. I have to say thank you to Joe Corrado for giving me this opportunity and letting me beat the crap out of his car for 25 laps," Norris said jokingly. "I give Dan (Bauman) and the track crew credit, they tried their best, but that was just inevitable, that was pretty wild."
Precise Racing Products Feature: (Finish-Name-[Start]) 1. 10-Michael Norris[3]; 2. 27W-Eric Wilson[2]; 3. 77-Tyler Dietz[5]; 4. 9-Levi Yetter[1]; 5. 11-Joshua Powell[12]; 6. 10L-Gary Lyle[18]; 7. 27T-Tony White[17]; 8. 111-Matt Lux[9]; 9. 9K-Clayton Kennedy[11]; 10. 10C-Ryan Christoff[7]; 11. J4-John Garvin Jr[10]; 12. 81-Mike Miller[13]; 13. 63-Ethan Thompson[4]; 14. 55-Chris Schneider[15]; 15. 01-Ron Hall[14]; 16. 94-Joe Campbell[16]; 17. (DNS) 29-Ken Schaltenbrand; 18. (DQ) 48-Colton Flinner[8]
Williamson Returns Home to Collect 32nd Career Win
A rainout at Ransomville Speewday brought the four-time track champion back to where it all began for him in the Big Block ranks. Mat Williamson, who had last competed on a rodeo style track at Bridgeport, NJ in Super DIRTcar Series action and won less than two weeks prior, returned to Lernerville on Friday night and put on a performance that fans were accustomed to seeing during his Fab4 heydays.
Veteran pilot Will Thomas brought the field to the green flag alongside Mike Kinney as Thomas got out to the early lead wile behind them, Williamson and Jeremiah Shingledecker battled for the second spot following Kinney's back slide on the opening lap when he found himself off the top of the back stretch. Williamson made his way past Shingledecker and then set his sights on the race leader, making up ground with intensity until he found himself taking looks to the outside and inside of Thomas in the early going. With six laps in the books, Williamson took to the low side and made his way past Thomas in turn four as drivers behind them were forced with a decision on whether to use the high groove for a smoother ride or where a choppy pattern had emerged on the faster, yet more dangerous lower groove.
With Thomas in second, Shingledecker and Garrett Krummert began to make moves towards the podium spots when Chaz Wolbert slowed to bring out the caution with seven laps down. Shingledecker managed to beat Thomas to the line to take the second spot away and lined up alongside Williamson on the restart and former track champions Rex King Jr. and Dave Murdick looking ready to join the chase pack behind them. Thomas then surrendered all hope, bringing his car off the track just moments after the restart as Williamson maintained the lead and drivers kept holding on for dear life behind him.
Shingledecker gave up the second spot to Krummert who was within striking distance of Williamson as the halfway point came and went. King Jr then went to work on the third running Shingledecker, taking looks both in the top groove and the bottom coming out of turn four as Williamson found himself in heavy lapped traffic. King Jr found his way underneath Shingledecker for the third spot with less than 10 laps to go and then around Krummert for second with less than five laps to go when one final caution for a spun Brian Swartzlander, setting the stage for a late race reset with 22 laps down.
On the final restart, Williamson drove away from everyone as Shingledecker and King Jr resumed their race long battle, this time with Shingledecker using the bottom side to re-take the second spot. But, out front it was all Mat Williamson who cruised to his 32nd career win at Lernerville Speedway.
"I'm happy to be back, this place is awesome," Williamson said in victory lane. "A bit challenging with the weather but at least we got to race and it's always nice to see the fans at Lernerville, they're the best in the world. This is one of the best places to race, even if you start in the back you can still win with a good car here, it's always nice to come back here."
Diehl Automotive Feature: (Finish-Name-[Start]) 1. 6-Mat Williamson[3]; 2. 37MD-Jeremiah Shingledecker[4]; 3. 165-Rex King Jr[7]; 4. 29-Garrett Krummert[5]; 5. 11R-Brad Rapp[13]; 6. 61-Dave Murdick[10]; 7. 318-Eric Gabany[6]; 8. 20P-Mike Kinney[2]; 9. 83-Brian Swartzlander[14]; 10. 35-Steve Slater[11]; 11. 5C-Ayden Cipriano[12]; 12. 13-Rick Regalski[9]; 13. C3-Chas Wolbert[8]; 14. 9-Will Thomas[1]; 15. 64-Rodney Beltz[15]
Spithaler Powers Past Sprint Car Field
In April of 2016, former track champion Brandon Spithaler won his last feature race at Lernerville Speedway before Friday night. And, it certainly wasn't for his lack of trying. Spithaler had been a driver poised to strike any time he made his way to the track, but a mixture of bad luck and a formidable roster at the front of the Sprint Car fields had been proving to be obstacles at Lernerville over the past few years. However, Spithaler found himself in a perfect set of circumstances surface wise on Friday night and he simply refused to let the opportunity slip away by turning in a performance that was a classic reminder of what he can do on any given night.
Up front, Darin Gallagher and George Hobaugh brought the field to the green flag with former track champion Carl Bowser and Tonawanda, NY driver Matt Farnham directly behind them. As the race got underway, Gallagher took command of the field with Bowser hanging close behind him and Spithaler moving forward with precision and purpose from his fifth starting spot. Spithaler managed to take the third spot from Hobaugh in the first three laps and set his sights on the leader while behind them, night one feature winner AJ Flick had been making steady progress towards the front from his ninth starting spot. Spithaler tracked down Gallagher for the lead heading into the fourth lap in turn four, using the bottom of the surface to wrest the lead away and immediately put distance between him and his pursuers.
All action stopped for a stopped David Kalb Jr. in turn two with six laps in the books. As the field rolled towards the green, Dale Blaney had found himself within striking distance in the fourth spot, but as the single file restart got underway, he converted the opportunity to push himself to the second spot behind Spithaler who had y5once again stretched out a considerable lead. As the halfway point approached, Spithaler found himself facing considerable lapped traffic as Flick made his way underneath Blaney for the second spot. Out front, Spithaler kept putting one piece of lapped traffic after another behind him, suing both the low side and high side when necessary. With less than five laps to go and more lapped traffic for the leader to deal with, Flick closed the gap considerably, but was unable to hunt down a very fast Spithaler who found open air again and thwarted any hopes for Flick or anyone else on the track, turning in a dominant performance in the feature win. `
"Every week I come here hoping it will rain and the track will look like this," Spithaler remarked. "If it's a cornfield, it's my driving style, so I'm glad it rained all week."
Peoples Natural Gas Sprint Car Feature: (Finish-Name-[Start]) 1. 22-Brandon Spithaler[5]; 2. 2-AJ Flick[9]; 3. 32-Dale Blaney[8]; 4. 9-Trey Jacobs[10]; 5. 7NY-Matt Farnham[4]; 6. 11-Carl Bowser[3]; 7. 46-Michael Bauer[11]; 8. 12-Darin Gallagher[1]; 9. 15K-Creed Kemenah[12]; 10. 23JR-Jack Sodeman Jr[19]; 11. 13-Brandon Matus[20]; 12. 2R-Ricky Peterson[17]; 13. 33-Brent Matus[18]; 14. 11J-David Kalb[16]; 15. 40-George Hobaugh Jr[2]; 16. 29-Dan Shetler[14]; 17. 35-Jared Zimbardi[7]; 18. 88C-Chad Miller[13]; 19. 6-Bob Felmlee[6]; 20. 08-Danny Kuriger[15]
Dietz Scores Well Deserved First Career Win
It was a long time coming, but worth it in the end for Jake Dietz on Friday night. Jake Dietz, brother of two-time Pro Stock track champion and Late Model competitor Tyler Dietz had been close to victory in Pro Stock action on countless occasions and been on the verge of wins in both the past two seasons that slipped away. However, with the heartbreak of the recent loss of his grandmother still fresh, Dietz turned in a performance that was focused, convincing and determined as he would not be denied his way to victory lane for the first time in his career to date.
Chase Lambert and Tommy Dembowski opened the race on the front row where Lambert raced out to the early lead. Behind him, Mike Bordt, Dembowowski, Brian Daugherty and Brett Huitra made up the chase pack. Dietz, who started the race from the ninth spot, made forward progress steadily in the early going, including passing his own brother to enter the top five in the first five laps while Daugherty closed to Lambert's bumper out front. The race got a reset with eight laps in the books when Hutira stopped on the front stretch, and when racing got underway again, Daugherty took the lead from Lambert who then made contact with Tyler Dietz in turn four and wound up facing the wrong way to bring out the caution.
When action resumed, Daugherty restarted alongside Bordt with the Dietz brothers making up the second for and 12 laps remaining. Daugherty retained the lead but Jake Dietz bolted to the second spot as if he'd been shot out of a cannon and stayed close to Daugherty's bumper. Running just one half groove ower than the leader Dietz kept applying pressure as the laps would down with Daugherty managing to gain some separation towards the lap 15 mark, but still remained within striking distance. Dylan Morando then brought out the caution for a spin in turn two with 15 laps down. Following another caution for Cody Koteles, Mike Bordt surrendered for the night. The green flag waved and when it did Daugherty retained the lead until Jake Dietz found room on the bottom groove on lap 17 and used it to make the pass for the lead down the front stretch as Daugherty retired and the yellow waved with 2 laps to go. On the final restart, Dietz used the bottom for the restart and held off an oncoming Jason Fosnaught to take the feature win where the champagne flowed courtesy of brother Tyler in victory lane.
"It feels amazing," Dietz said. "Especially after the last two weeks. Last week our grandmother passed away from cancer, that was rough. And then yesterday it's been 12 years since my dad passed away and he never watched me race before so I'm glad he's looking down on me, this is very emotional."
Millerstown Pic-A-Part Feature: (Finish-Name-[Start]) 1. 27-Jacob Dietz[9]; 2. 25-Brett McDonald[6]; 3. 00-Tyler Dietz[10]; 4. 00L-Cole Miller[18]; 5. 8C-Brandon Doland[14]; 6. 68-John Peterman[15]; 7. 57-Jeff Hay[16]; 8. 1K-Cody Koteles[12]; 9. 73-Brian Daugherty[7]; 10. 7A-Tom Robertson[17]; 11. 27X-Dylan Morando[13]; 12. 26-Mike Bordt[3]; 13. 79-Tommy Dembowski[2]; 14. 22-Chase Lambert[1]; 15. 56-Christian Schneider[5]; 16. 55S-Chris Schneider[8]; 17. 4-Brett Hutira[4]; 18. 77H-Heath Close[11]; 19. (DNS) 81-Mike Miller
---
Submitted By: Gary Heeman
Back to News