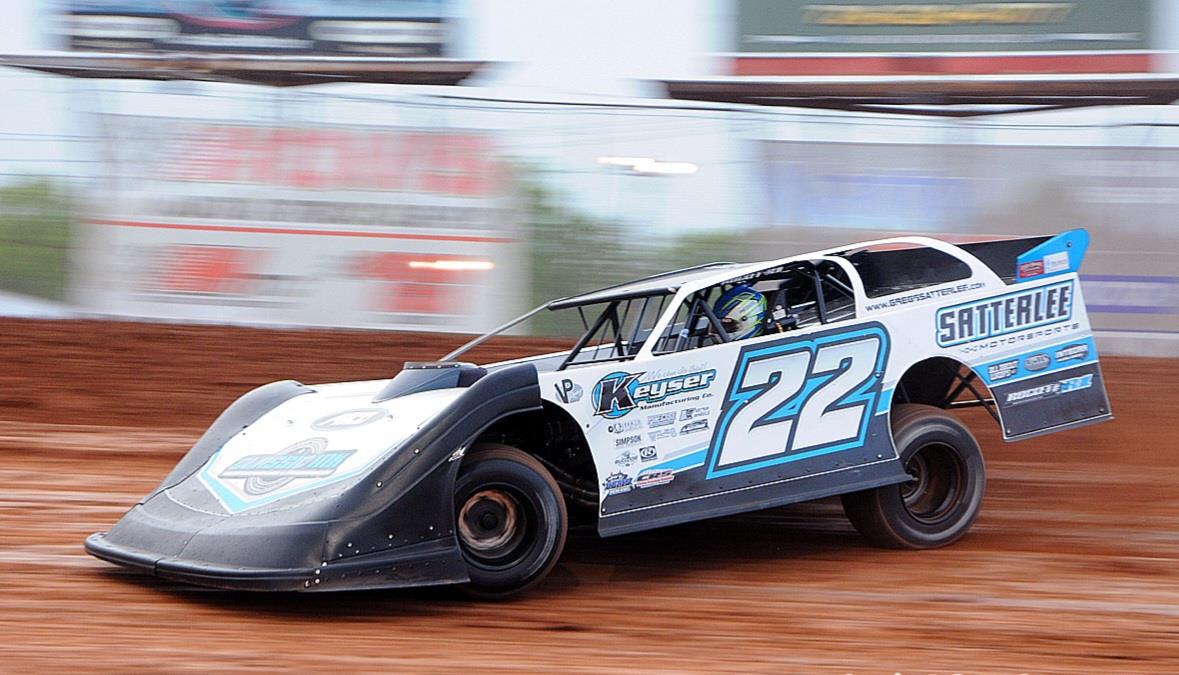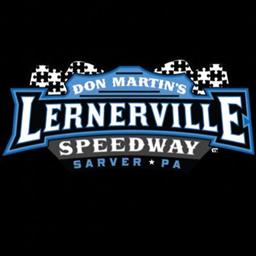 5/13/2023
Lernerville Speedway
---
Satterlee Tops ULMS Lates; Kuriger Wires Sprints; Rudolph Dominates Big Blocks; Dietz Scores 2nd Win
Rick Rarer Photo
Sarver, PA (May 13, 2023) Warm temperatures and a pit area containing 97 cars greeted the World's Finest Race Fans on Friday night. And those in attendance were treated to a fantastic night of racing which featured an appearance from the Jay's Automotive ULMS Racing Series, partaking in the $4,000-to-win 'Willie and Conda McConnell Memorial' which brought out a tremendously stout field of Late Model competition. Gregg Satterlee made his return to The Action Track pay off with a strong performance as he found himself in Terry Bowser Victory Lane, having bested the region's top drivers for his second straight McConnell Memorial victory. Meanwhile, Dan Kuriger turned in a strong performance of his own in collecting his first victory of the season in the Peoples Natural Gas Sprint Car main event and Erick Rudolph made a visit all the way from Ransomville, NY and made the haul worthwhile, taking the win by a good margin in the Diehl Automotive Big Block Modified feature. Once again, Tyler Dietz, fresh off a strong 6th place finish in the Late Model main event, closed the night with his second feature win of the year, winning a late race battle with Cody Koteles that bore a strong resemblance to his opening night win, three weeks ago.
Satterlee Bests ULMS Field
There were 39 cars that made their way to The Action Track on Friday night for the first of three ULMS Late Model programs on the schedule this year. It was a field young stars and familiar faces that truly contained the best of the best in the area and even beyond as six states were represented in the field. And when all was said and done, Gregg Satterlee was left standing in Victory Lane just as he was a year prior at the Willie and Conda McConnell Memorial.
Dylan Ceccce and Doug Drown started on the front row with Drown taking the early lead as Cecce and Chub Frank started applying pressure early on. Following an early caution, Frank made his way out front on the restart with Cecce, and Alex Ferree directly behind. Moving up quickly from his seventh starting spot was Satterlee who made his way around Cecce for second with eight laps down as Ferree also made his way around for the third spot.
All action was halted for a Chris Schneider spin in turn four with 10 laps down and when it resumed, Michael Norris was moving forward with authority until he made contact with Drown and Cecce on the front stetch which ended the night for himself and Cecce with 11 laps down, bringing out another yellow. On the restart, Satterlee patiently stayed close to Frank and methodically chipped away at the lead until he made his way around Frank coming out of turn four at the halfway mark. With Satterlee in front, Frank, Ferree and Mason Zeigler made up the three car chase pack as Ferree looked to use the high side to make his way around.
Satterlee then found himself in lapped traffic but was still able to build a 2.5 second lead as Ferree made his way around Frank with 20 laps down. All eyes then turned to Ferree as the leader found himself in even heavier lapped traffic as the laps wound down. However, Ferree found himself not able to close the gap quick substantially. The race dramatically changed with a caution on lap 25 as Braeden Dillinger found himself facing the wrong way coming out of turn four. The stage was set for a five lap shootout in clean air between Satterlee, Ferree and now third running Zeigler. On the ensuing restart, Satterlee simply drove away leaving Ferree, Frank and Zeigler to battle it out for the second spot when Logan Zarin brought out the caution with 29 laps down. Once again, Satterlee drove away and straight onto the 2023 winner's list.
"It's a good win for us," Satterlee said. "We've not been getting to race a lot this year with all the rain, but we tried a few things tonight. The racetrack tonight seemed a lot like Firecracker 100 conditions and I'm sure everyone knows that's not our sweet spot, but we tried some new things tonight and it went in the right direction so hopefully when we come back in June we got something for them."
ULMS/Precise Racing Products Late Model Feature: (Finish-Name-[Start]) 1. 22S-Gregg Satterlee[7]; 2. 1C-Alex Ferree[5]; 3. 1*-Chub Frank[3]; 4. 25Z-Mason Zeigler[11]; 5. 27-Dylan Yoder[12]; 6. 77-Tyler Dietz[8]; 7. 12-Doug Drown[2]; 8. 48-Colton Flinner[14]; 9. 72-Tyler Emory[16]; 10. 184-Kyle Lukon[20]; 11. 3RK-Daryl Charlier[4]; 12. 2-Andrew Yoder[17]; 13. 4S-Ryan Montgomery[18]; 14. 27W-Eric Wilson[21]; 15. 22O-Greg Oakes[19]; 16. 22-Cody Rodgers[15]; 17. 55-Chris Schneider[13]; 18. 1Z-Logan Zarin[9]; 19. 75-RJ Dallape[22]; 20. 10SX-Dave Stamm[23]; 21. 14-Braeden Dillinger[10]; 22. 28D-Del Rougeux[25]; 23. 9-Levi Yetter[24]; 24. 18C-Dylan Cecce[1]; 25. 10-Michael Norris[6]
Kuriger Wires Sprint Feature
The Peoples Natural Gas Sprint Car feature may have been won from the front row, but it was never easy to be sure. Dan Kuriger found himself starting alongside pole sitter George Hobaugh Jr. of the 25-lap main event and from the drop of the green, he was the fastest car on the track. Kuriger quickly made his way past Hobaugh for the lead out of turn two and immediately found himself with a pack containing AJ Flick, and Darin Gallagher on his tail tank. Flick and Hobaugh exchanged slide jobs for the third spot in the early going while Gallagher took up the second position.
Making his way forward with precision was week two feature winner Brandon Spithaler early on from his 10 starting spot while Kuriger started looking at lapped traffic ahead at the eight lap mark. Kuriger made it through the first batch with ease using the high side of the speedway, and once through, he started building a 2.5 second lead on Gallagher. Flick made his way around Gallagher for second while Spithaler also picked his way forward and around him for the third spot just past the halfway point. Flick looked to have a good run on the top in a bid to challenge for the lead with 10 laps to go but put his right rear just off the brim of turn four, enabling Spithaler to take the second spot from him.
With five laps to go, Spithaler had climbed to less than a half second off of Kuriger's tail and looked poised to make a pass for the potential win as he threw a slide job with two laps to go that cleared Kuriger in turns one and two. However, Kuriger used the top side momentum to rocket back around Spithaler to hold the lead. Flick then made one last attempt to take the second spot away from Spithaler but came up just short as Kuriger crossed under the checkers first for his first feature win of the season.
"I definitely like a slick track but that cushion was right on the edge," Kuriger remarked in Terry Bowser Excavating Victory Lane. "I didn't know how hard I could drive it without going over the hillside. Brandon (Spithaler) has been on a tear this year and AJ Flick wins here all the time so I'm very proud of it."
Peoples Natural Gas Sprint Car Feature: (Finish-Name-[Start]) 1. 08-Danny Kuriger[2]; 2. 22-Brandon Spithaler[10]; 3. 2-AJ Flick[4]; 4. 12-Darin Gallagher[3]; 5. 40-George Hobaugh Jr[1]; 6. 55-Jake Swanson[9]; 7. 46-Michael Bauer[8]; 8. 13-Brandon Matus[7]; 9. 29-Dan Shetler[6]; 10. 11-Carl Bowser[11]; 11. 33-Brent Matus[5]; 12. 11J-David Kalb[12]; 13. 19-Carson Parrish[18]; 14. 13B-Steve Bright[13]; 15. 21-Hunter Hite[16]; 16. 55*-Matt Sherlock[14]; 17. 4K-William Kiley[17]; 18. 4G-Justin Kovach[15]
Rudolph Tames Big Blocks
Erick Rudolph can still remember days when it wasn't so easy in his first few attempts at trying his hand at a Fab4 feature win in the Diehl Automotive Big Block Modifieds, but those memories seem so long ago now. In the present time, the Ransomville, NY pilot has been unbeatable in his visits, starting in 2020, Rudolph had gone four for four at Lernerville including two BRP Tour wins, and on Friday night, he gave yet another reminder of what to expect when is car shows up in the pits on any given race night.
Rudolph had his work cut out for him as the green flag fell as he started eighth in the 25-lap main event with all-time greats, Brian Swartzander, Dave Murdick , Jeremiah Shingledecker and Rex King Jr. starting ahead of him. Pole sitter Steve Slater brought the field to the green flag with Murdick alongside him with Murdick grabbing the early lead as Swartzlander moved quickly to the second spot in the yearly going. The two drivers were virtually neck and neck with Garrett Krummert and Rudolph making their way to within striking distance with just three laps in the books, setting up a four car dogfight at the front with some of the best pilots in the region.
Krummert was able to slip past Swartzlander for second just two laps later, however, Rudolph came with him, using the low side and capturing all the bite and momentum he could seemingly get out of his machine. Then on lap seven, Rudolph put his car ahead of both Swartzlander and Krummert to take the lead, using one set of turns and a small part of the back stretch to do so. Once out front, Rudolph wasted no time creating a comfortable margin behind him while Krummert and Murdick continued battling hard for the second spot. Krummert put himself solidly in the second spot at the halfway mark with Swartzlander, Murdick and King Jr behind him in the chase pack as Rudolph found himself in lapped traffic with 10 laps to go.
The lapped cars proved to be no obstacle whatsoever as Rudolph propelled himself to over a six second lead while King Jr found more speed and made his way to the third spot past Swartzlander as the laps would down. But out front, the night belonged to Rudolph who drove nearly as perfect race as could be, taking is fifth career main event victory at Lernerville.
"We're always excited to get down here to Lernerville Speedway," Rudolph said. "It's one of the nicest tracks in America in my opinion. It's been a while since we've seen the track quite like this so we had to dig back in our notebook and I think we hit it right this time. Hats off to my tire guy, crew chief and father, I wouldn't be here without them.
Diehl Automotive Big Block Modified Feature: (Finish-Name-[Start]) 1. 25-Erick Rudolph[8]; 2. 29-Garrett Krummert[5]; 3. 165-Rex King Jr[6]; 4. 83-Brian Swartzlander[3]; 5. 37MD-Jeremiah Shingledecker[4]; 6. 11R-Brad Rapp[9]; 7. 318-Eric Gabany[18]; 8. 61-Dave Murdick[2]; 9. C3-Chas Wolbert[7]; 10. 45-Steve Feder[14]; 11. 14S-Justin Shea[13]; 12. 20P-Mike Kinney[11]; 13. 13-Rick Regalski[10]; 14. 9-Will Thomas[16]; 15. 75-Jeff Miller[15]; 16. 35-Steve Slater[1]; 17. 03-Mark Frankhouser[12]; 18. 64-Rodney Beltz[20]; 19. 27R-Dave Reges[17]; 20. (DNS) 777-Tyler Willard
Dietz Edges Koteles Once Again in Pro Stock Win
The battle at the front of the field looked awfully familiar as the Millerstown Pic-A-Part Pro Stocks made their way to the track. Points leader Tyler Dietz and Cody Koteles looked to resume their battle from opening night which featured clean, hard racing and a narrow Dietz victory after which Dietz had essentially remarked that Koteles was bound to win features at Lernerville at some point soon, but it would have to be earned. The two drivers started on the front row of the 20 lap main event and when the green flag waved, Koteles got out to the early lead working the high side with Dietz down low in the early going.
Dietz then went to the lead on lap two while behind him, Tim Bish, Chase Lambert and Brian Daugherty made up the top five. The yellow flag waved for a Cole Miller spin in turn four with 15 laps to go and when action resumed, Dietz won the drag race to turn one while Daugherty made his way around Lambert for the third spot. Heath Close then brought out another caution as he stopped on the backstretch with 12 laps to go. Koteles was able to hang close to Dietz on the restart and drew to his bumper at the halfway point as the two drivers were almost at a dead heat at the start/finish line as they went to work on their battle.
Koteles took the lead with seven laps to go but Dietz remained wheel to wheel using the low side of the speedway and with five laps to go, looked in danger of not getting his lead back. Then on lap 17 Dietz was able to slide up in front of Koteles, taking the lead back as one last bid on the high side for Koteles came up short. Miller brought out the yellow flag with one lap left setting up a green-white-checkered finish. Dietz elected to start on the bottom where he was able to slide a half groove in front of Koteles and stayed out front the rest of the way to complete his second win of the season.
"It's nice and smooth out there," Dietz said. "I knew that the middle was starting to take a little bit of rubber and up high was taking a little bit of rubber and in the first couple of laps I didn't feel good about going up there so I went to the bottom when I knew."
Millerstown Pic-A-Part Pro Stock Feature: (Finish-Name-[Start]) 1. 00-Tyler Dietz[2]; 2. 1K-Cody Koteles[1]; 3. 73-Brian Daugherty[10]; 4. 11B-Tim Bish[4]; 5. 22-Chase Lambert[5]; 6. 26-Mike Bordt[9]; 7. 25-Brett McDonald[6]; 8. 10-Nick Kocuba[11]; 9. 4-Brett Hetira[7]; 10. 310-Dale Tuche[8]; 11. 8C-Brandon Doland[3]; 12. 68-John Peterman Jr[13]; 13. 00L-Cole Miller[15]; 14. 27-Jacob Dietz[14]; 15. 99T-Theo Baumgartner[16]; 16. 57-Jeff Hay[18]; 17. 77H-Heath Close[12]; 18. 9-Mike DiFrancesca[17]; 19. 56-Christian Schneider[19]
The Panza Supply Hard Charger of the Night award went to Eric Gabany who managed to advance 11 spots in Friday's Big Block Modified feature. Gabany will receive the entire $300 award for the week, courtesy of Panza Supply.
Racing returns to Lernerville Speedway next Friday, May 19 as the BRP Modified Tour makes its one and only appearance of the season where they'll take center stage with the Peoples Natural Gas Sprint Cars and Millerstown Pic-A-Part Pro Stocks also on the card plus an appearance from the RUSH Late Models as well as they get a tune up opportunity for the upcoming Bill Emig Memorial as part of the 17th annual Firecracker 100 weekend presented by Big River Steel June 22-24.
---
Submitted By: Gary Heeman
Back to News