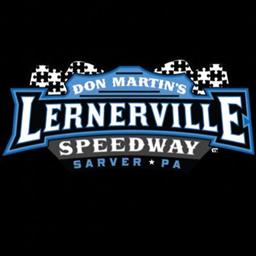 5/17/2023
Lernerville Speedway
---
BRP Modified Tour Invades The Action Track Friday Night
Sarver, PA (May 17, 2023) The earth will shake at The Action Track on Friday night as the BRP Modified Tour makes its annual stop with a $3,000-to-win program for the Diehl Automotive Big Block Modifieds, taking center stage of a four-division night of racing at the Sarver speedplant. Friday night's program will also include the Peoples Natural Gas Sprint Cars, Millerstown Pic-A-Part Pro Stocks and a special appearance from the Hovis Auto & Truck Supply RUSH Late Models, making for a stout night of racing for the World's Finest Race Fans to enjoy!
Will Rudolph Stay Hot In Sarver?
Coming into Friday night's BRP Mod Tour event, many pairs of eyes will be on last Friday night's feature winner and Ransomville, NY resident Erick Rudolph who has been seemingly unstoppable in action at the speedway. Rudolph already owns two tour wins at Lernerville thus far, coming in 2020 and 2022, and counting last week owns three weekly wins as well. The all-time tour wins leader made it look easy just one week ago when he started eighth on the grid and worked methodically through the field to take the lead before the 10 lap mark and cruised to a comfortable victory, passing many would be considered favorites in the process. However, things can and do change, and there's more than enough local talent to derail Rudolph's current hot streak should the luck break their way.
Night one tour race winner and 2019 track champion Garrett Krummert has faced Rudolph at many tour stops over the past few seasons and has come out on top in his fair share of races, including the aforementioned first race at Michael's Mercer Raceway on April 15. Krummert, searching for his first Tour win at Lernerville, will certainly be one to watch on Friday night. Current weekly points leader Rex King Jr. finished on the podium last Friday night and currently owns two Mod Tour wins in his career at The Action Track, coming in 2018 and 2021, and is more than capable of putting a third trophy in the case. Eight time track champion Brian Swartzlander already has one feature win in 2023 at Lernerville and owns six career Mod Tour wins at the track he calls home while four time and defending champion Jeremiah Shingledecker will be looking to add his first touring event win at Lernerville to his impressive list of accomplishments as well.
Will There Be a Fourth Different Feature Winner in Peoples Sprints?
Three races have seen three different race winners in the Peoples Natural Gas Sprint Cars as defending champion AJ Flick, a resurgent Brandon Spithaler and the always tough Dan Kuriger not only top the point standings thus far, they've shared the wins to date. Depending on the luck of the draw, a strong running Darin Gallagher and determined former champion Carl Bowser will be looking to etch their name on the 2023 winner's list on Friday night. And, if the first three nights of competition have shown us anything, it is that you never know who might pop by for a visit as evidenced by the likes of Trey Jacobs, Ricky Peterson, Creed Kemenah, Dale Blaney or even multi-discipline Sprint Car driver Jake Swanson have all made at least one appearance in weekly competition thus far.
Can The Brothers Dietz Be Stopped?
The answer to the question is yes. But to do so will take a near perfect performance if the first three weeks of the season are in indicator in Millerstown Pic-A-Part Pro Stock action. Defending champion Tyler Dietz has managed two out of the three wins thus far and in each of them, he found himself battling wheel to wheel with a determined Cody Koteles in two main events that went down to the final lap to decide. Brother Jake Dietz captured his first career win at Lernerville just two weeks ago and would love to keep the family momentum rolling forward. Jake managed to make a late race pass for the win, and held off a stiff challenge from the always strong running Jason Fosnaught who is sharing the wheel of the #25 machine with its usual pilot Brett McDonald in 2023. Also in the mix for the win should be Integra Shock guru Brian Daugherty who can normally be found near the top of the finishing order week in and week out. Expect a robust field of cars as some drivers look to gain extra seat time in advance of the $2,000-to-win Bob Lambert Memorial on Friday, May 26.
RUSH Lates Make First 2023 Appearance in Emig Memorial Tune Up
With the Precise Racing Products Late Models on hiatus this week, the Hovis Auto & Truck Supply RUSH Late Models grace us with their presence for a weekly event that is certain to bring out a number of drivers looking for setup notes in advance of the upcoming, $20,000-to-win 'Bill Emig Memorial' which takes place during the Firecracker 100 weekend June 22-24. While a list of drivers who plan on attending is not certain at this time, expect a few heavy hitters to make their way down as perhaps Mike Duritsky, Joe Martin and others consider not only the tune up, but also the provisional starting spot that will be awarded on Friday night, to the Emig Memorial for the highest finishing driver who does not transfer to the main event in June.
Pits will open on Friday at 4 PM with grandstands opening at 5 PM. General admission is $18 with children 10 and under are admitted free of charge. Friday's pit pass cost is $30. Tickets are available online at Lernerville.com and will also be available at the ticket booth and for those who are unable to attend, the entire night of racing will be shown LIVE on our streaming platform on the Dirt.tv Network via subscription ($24.99/monthly-$149/annually).
We look forward to seeing you Friday night!
---
Submitted By: Gary Heeman
Back to News