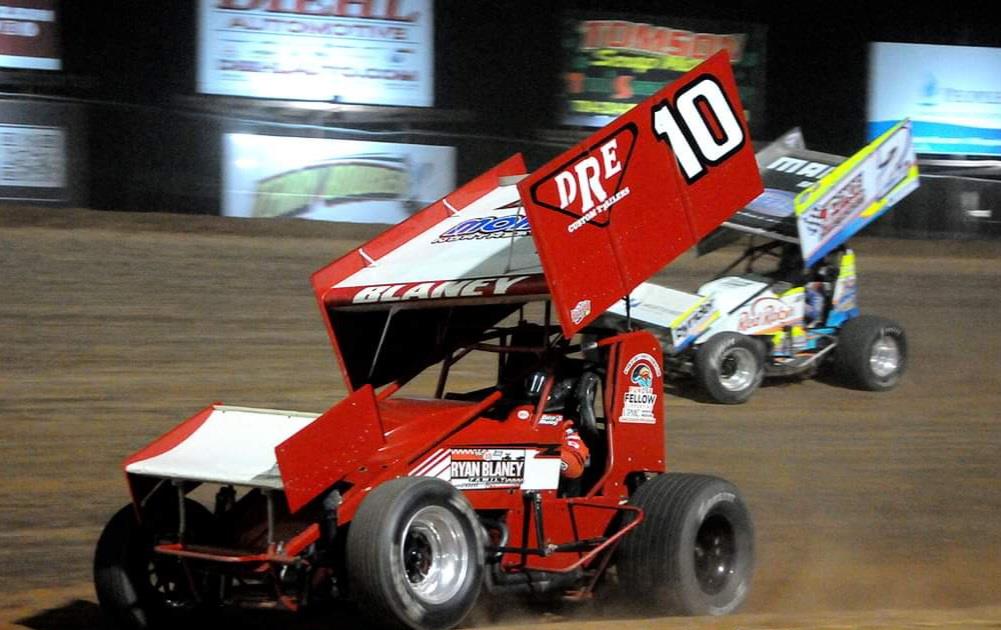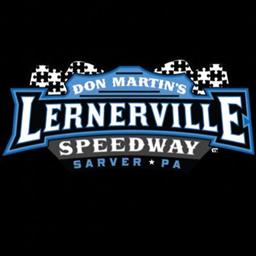 6/3/2023
Lernerville Speedway
---
Flick Spins to Win in Western PA Speedweek Night Three; Shingledecker Edges Swartzlander in Thriller; Dietz Dominates Lates; Schneider Tops Pro Stocks
Rick Rarer Photo
Sarver, PA (June 3, 2023) A clear but sweltering, summer-type atmosphere greeted fans and drivers at The Action Track on Friday night with Fab4 Racing on tap, featuring an appearance from the annual Western PA Sprint Speedweek, perhaps pointing towards a thrilling race night ahead. And, it was truly that and more as three of the four features went down to the wire including some in a classic battles with Hall of Fame drivers from both years past and current legends in the making. The red hot AJ Flick found himself running both wheel to wheel and ahead of a pair of National Sprint Car Hall of Famers with former NASCAR driver Dave Blaney and multi time All Star Circuit of Champions Sprint Car champion Dale Blaney both in the mix for the potential win and podium spot in the 30-lap, $3,000-to-win Peoples Natural Gas Sprint Car main event.
Meanwhile, four time and defending track champion Jeremiah Shingledecker found himself in a battle to the final inch of the front straight away with DIRTcar Hall of Fame member and eight time track champion Brian Swartzlander in the Diehl Automotive Big Block Modified finale. Tyler Dietz demonstrated that not only is he a threat to win on virtually every night in Pro Stock action but also with the Precise Racing Products Late Models as he dominated the 16 car field en route to his second career victory, both coming within his last five appearances dating back to 2022. And in the Millerstown Pic-A-Part Pro Stock main event, Christian Schneider notched his name on the winner's list for the first time in his career, edging an oncoming Tyler Dietz late in race to collect the win.
Flick Covers Western PA Speedweek Field
AJ Flick had been the class of the fields in area Sprint Car action over the past 10 days, with four wins in his last five appearances coming into round three of Western PA Sprint Speedweek. However, with Central PA based drivers such as Mark Smith, Brandon Rahmer and 2021 Speedweek champion Ryan Smith in the field plus the brothers Blaney and other invaders in the mix, the task at hand looked to be a bit more difficult for the current points leader on Friday night.
Heat winners Michael Bauer and Plymouth, Indiana pilot Zane Devault brought the field to the green flag with AJ Flick and heat winner Matt Farnham loaded directly behind them in row two. When action got underway, Devault took the early lead following some contact with Bauer at the bottom of turn four. Flick quickly rose to the second spot after he managed to get around Bauer coming out of turn two with Dave Blaney lurking just behind them in the fourth spot with two laps in the books which setup the drama to unfold as the lap count rose. Flick went straight to the bottom of turns three and four to make his way under Devault and took the lead with 28 circuits to go when a caution came out for a slowing Mark Smith. On the ensuing restart Flick bolted out to a sizable advantage over Devault while behind them, Dave Blaney, Farnham and Dale Blaney made up the rest of the top five. Dave Blaney made his way around Devault for the second spot with five laps down and set his sights on the race leader.
Flick entered lapped traffic with 10 laps down as Blaney patiently looked for the proper moment to make his move for the lead while behind them, Dale Blaney had made his way around Farnham for the fourth spot. Then with 13 laps down several cars came to an abrupt stop coming out of turn four onto the frontstetch as George Hobaugh got tangled with a spinning Jacob Dykstra directly in front of the leaders with Flick having to do a 360 degree spin to avoid calamity while collecting some slight damage to the front bumper of his machine. Dykstra and Hobaugh were able to get out of their cars under their own power during the stoppage.
When action got back underway again, Flick went straight to the bottom with Blaney to the high side before the two leaders crossed each other in turns three and four where Blaney emerged with the lead and 14 laps down. Meanwhile, Dale Blaney used the restart to make his way to the third spot, and moving forward with authority was Ryan Smith who started 19th on the grid and had made his way to the sixth spot at the halfway point. Out front, the laps were starting to wind down with Blaney holding a slim lead over Flick and a new batch of lapped traffic directly in front of the leaders with 10 laps to go. Blaney favored the low side with Flick favoring the high line as Flick found himself on Blaney's tail tank with six laps to go, Blaney slid up to protect the top down the front stretch as Flick crossed under heading into turn one. The move worked like a charm as the Apollo, PA pilot reclaimed the lead coming out of turn two and back into the lead. Flick then went to work slicing his way through the remaining lapped traffic as Blaney began to fade over the final laps as Flick crossed the line to collect his second straight Western PA Sprint Speedweek victory with brothers Dave and Dale Blaney rounding out the podium.
"I don't even know what to say," Flick said. "This is one of the coolest wins I've ever had in front of one of the biggest crowds here for Western PA Speedweek. We talk about keeping the streak alive in trying to win these races and there's so much luck involved. My life kind of flashed before my eyes there and I knew the only shot I had was to just floor the thing and see if I could get it turned around and I'm lucky enough it happened."
"The car was good, I was trying to figure out where to run and figured AJ had nothing to lose and would try to experiment with lines and he did a great job. " second place finisher Dave Blaney said.
"It wasn't bad at all," third place finisher Dale Blaney remarked. "I watched a hell of a race in front of me. It was pretty cool to watch those guys go at it, they were up, down, middle and then all of the sudden here comes the #23 (Devault) back around me and then he ran it off the hill but it was a pretty good race from my seat."
Peoples Natural Gas Sprint Car Feature: (Finish-Name-[Start]) 1. 2-AJ Flick[3]; 2. 10-Dave Blaney[6]; 3. 32B-Dale Blaney[7]; 4. 23V-Zane Devault[2]; 5. 6R-Ryan Smith[19]; 6. 7NY-Matt Farnham[4]; 7. 5E-Brandon Rahmer[11]; 8. 46-Michael Bauer[1]; 9. 29-Dan Shetler[8]; 10. 11-Carl Bowser[9]; 11. 08-Danny Kuriger[22]; 12. 97-Greg Wilson[16]; 13. 20B-Cody Bova[14]; 14. 6-Bob Felmlee[10]; 15. 49H-Bradley Howard[21]; 16. 33-Brent Matus[15]; 17. 13-Brandon Matus[20]; 18. 35-Jared Zimbardi[18]; 19. 23-Darren Pifer[23]; 20. 5D-Jacob Dykstra[13]; 21. 40-George Hobaugh Jr[12]; 22. 5-John Walp[24]; 23. 19R-Mark Smith[5]; 24. 12-Darin Gallagher[17]
Shingledecker Edges Swartzlander in Classic Battle To Checkers
Defending champion Jeremiah Shingledecker had yet to visit victory lane in 2023, though he had been fairly fast most weeks save for an opening night race that saw an early ending for him. On Friday night, the defending champion had his work cut out for him as he started directly behind a front row of Chas Wolbert and week one feature winner Brian Swartzlander, and the two fastest cars in recent weeks, those of Rex King Jr. and Garrett Krummert directly behind him.
Wolbert bolted to the race lead after the initial green flag waved, using the high side to his advantage as Swartzlander hung close to the bottom. Swartzlander wrested the lead away just three laps into the main event with Wolbert falling to second and Shingledecker running third until he made his way around Wolbert for second with five laps down. Shingledecker inherited a 1.5 second gap between himself and Swartzlander with 20 laps to go and little in the way of lapped traffic to use in the 12 car field.
Meanwhile, Krummert and King were both making progress to the front as Wolbert tried to resist King's bid to take the fourth spot away. At the halfway mark, King had won the position while out front Swartzlander had a 10 car length advantage over Shingledecker running second. However, Swarzlander watched it disappear after he took more time than he would have liked to get around the lapped car of Caden Petry, allowing Shingledecker to draw to just a half second behind with just three laps to go. Shingledecker pulled to Swartzlander's back bumper with just two laps to go and pulled door to door as the wihte flag waved, overtaking the race lader as the two cars went squarely into turn one together with Shingldecker on top and Swatzlander on the bottom. Swartzlander then nosed back ahead down the back stretch and used the bottom of the speedway coming out of turns three and four, but Shingledecker kept his car on the top edge of the surface and carried the momentum over the finish line just 0.127 seconds ahead of Swartzlander to seal the victory with Garrett Krummert finishing out the podium.
"It was for me, I bet he probably doesn't agree about that." Shingledecker remarked upon being asked about the race being one of the most memorable between the two legends. "That was a really fun race. I knew for about the last 10 laps I was starting to close in on him and I don't know that I would have got by him if it wasn't for lapped traffic but it was still fun to see me getting closer and closer. It was a fun race. Brian's a great driver and we've never had issues on the race track and the top six cars can win here on any night so for us to track him as the race went on and be here is a really good accomplishment for us."
Diehl Automotive Feature: (Finish-Name-[Start]) 1. 37MD-Jeremiah Shingledecker[3]; 2. 83-Brian Swartzlander[2]; 3. 29-Garrett Krummert[6]; 4. 165-Rex King Jr[5]; 5. C3-Chas Wolbert[1]; 6. 45-Steve Feder[4]; 7. 61-Dave Murdick[7]; 8. 14S-Justin Shea[11]; 9. 35-Steve Slater[9]; 10. 20P-Mike Kinney[10]; 11. 10-Chelsie Kriegisch[8]; 12. 7P-Caden Petry[12]
Dietz Dominates Precise Lates
With the Firecracker 100 presented by Big River Steel fast approaching, it was becoming time for the Precise Racing Products Late Model drivers to start the process of fine tuning their machines and driving habits as just three weeks remained until the three day speed festival. And on Friday night, Tyler Dietz threw his hat in the ring of local favorites that was truly capable of providing a stiff challenge to the tour regulars and regional heavyweights with a strong performance that saw him dominate the 16 car field which included several other drivers whom have already made their mark on the event over the years.
Defending track champion, John Garvin Jr. and former two-time track champion Ken Schaltenbrand started on the front row on the 25-lap main event with Schaltenbrand taking a slight, albeit short lived lead following the initial green flag. Behind him, was Dietz who had already made his way forward from his fourth starting spot to challenge Schaltenbrand down the backstretch of the opening lap. Dietz made his way around for the lead at the flag stand and went to work opening up a solid gap on the field while Schaltenbrand, Garvin and Alex Ferree comprised a formidable chase pack in positions two through four in the early going.
Ferree and Garvin went to work engaging in a battle for the third spot with Garvin using the top side of the speedway and Ferree in the low groove. Ferree eclipsed Garvin on lap three along with Colton Flinner who rose from his seventh starting spot to join the pack up front while out front, Schaltenbrand managed to pull up to Dietz's bumper and starting taking looks with four laps in the books. The two front runners proceeded to gain separation from the field with both Dietz and Schaltenbrand running the low side of the speedway as has been their preferred way of maneuvering at the Sarver speedplant over the years while behind them, former track champion Michael Norris found the top side of the surface a bit slippery as he battled with control in the top groove in the early going.
With 10 laps in the books, Dietz began stacking car lengths between himself and Schaltenbrand who was being run down by Ferree to challenge for the second spot. Dietz found himself in lapped traffic at the halfway mark as Ferree began taking looks around Schaltenbrand on the high side, however he couldn't find the momentum necessary to match Schaltenbrand's speed around the bottom. Dietz went from stacking car lengths to straight-aways in the final 15 laps and with no caution flags in the works, he cruised seemingly uncontested to Terry Bowser Excavating Victory Lane while Schaltenbrand and Ferree took the final podium spots.
"I'm just so blessed to be able to do this," Dietz said. "In the Stock Car I know I'm the man to beat right now but that's on the back burner. This is the car I'm focused on. I want to win in this car and I want to run with the top regional drivers and I'm going to show it; it's coming."
Precise Racing Products Feature: (Finish-Name-[Start]) 1. 77-Tyler Dietz[4]; 2. 29-Ken Schaltenbrand[2]; 3. 1C-Alex Ferree[5]; 4. 48-Colton Flinner[7]; 5. J4-John Garvin Jr[1]; 6. 10-Michael Norris[8]; 7. 111-Matt Lux[6]; 8. 9-Levi Yetter[10]; 9. 20-Doug Eck[11]; 10. 27W-Eric Wilson[15]; 11. 81-Mike Miller[9]; 12. 66-Todd Bachman[13]; 13. 9K-Clayton Kennedy[12]; 14. 10L-Gary Lyle[3]; 15. 27T-Tony White[14]; 16. 11-Joshua Powell[16]
Schneider Takes First Career Lernerville Win
Christian Schneider had accumulated wins at Pittsburgh's Pennsylvania Motor Speedway during his Pro Stock career. However, his visits to The Action Track had been somewhat limited during that time, and after his performance on Friday night, one might wonder if he may be making a few more. After finishing second to the always tough Chris Schneider in his heat race, Christian redrew the pole, starting alongside Joey Zambotti in the 20-lap main event and rocketed out to the early race lead with Zambotti and Jacob Dietz battling for the second spot directly behind him and Cody Koteles in tow. In the early going, Dietz was doing his best to hold off Zambotti and Koteles as they nearly went three wide for a pair of laps while Tyler Dietz, fresh off his Late Model victory was making up ground in a hurry from his eighth starting spot. He made his way past his brother Jake and Zambotti, then drew door to door with Koteles for the second spot in an image that has played out seemingly every week, while as the halfway point came and went, Schneider had staked out a 2.3 second advantage and appeared to be running away uncontested. Schneider used the bottom groove to his advantage, looking very smooth in the process as Dietz won the battle with Koteles for second and found himself with eight laps left to run down Schneider.
Dietz was reeling in Schneider lap by lap turning what seemed to be an insurmountable gap into a potential shot at yet another victory. However, Schneider was able to leave the door closed on the bottom, driving patiently and calmly towards the checkered flag for his first career win at Lernerville Speedway.
"This field is stout here," Schneider said "The competition here is very good. I could hear him (Dietz), I knew he was on me but as long as I stayed glued to the bottom I just felt like it was hard for them to pass me."
Millerstown Pic-A-Part Feature: (Finish-Name-[Start]) 1. W5-Christian Schneider[1]; 2. 00-Tyler Dietz[8]; 3. 1K-Cody Koteles[7]; 4. 55S-Chris Schneider[6]; 5. 948-Joey Zambotti III[2]; 6. 27-Jacob Dietz[5]; 7. 25-Brett McDonald[11]; 8. 68-John Peterman Jr[13]; 9. 71-Joey Anderson[15]; 10. 81M-Mike Miller[3]; 11. 27X-Dylan Morando[9]; 12. 00L-Cole Miller[10]; 13. 7A-Tom Robertson[12]; 14. (DNS) 79-Tommy Dembowski; 15. (DNS) 81-Rich Wicker
Racing returns to The Action Track on Friday, June 9 for one of the most anticipated nights of the season as Fan Appreciation Night with Fireworks presented by #1 Cochran Automotive takes center stage featuring all of our Fab4 weekly racing divisions. Gates open at 5 PM with racing at 7:30 PM. General admission is $18 and all kids 10 and under are admitted free of charge. We will also be hosting our Summer Vacation School Bus Race night on Saturday, June 10 with Bus Races, Kids Bike Races, Double Figure 8 Races and a 100-lap Enduro. Racing will start at 6 PM on Saturday night with our normal race night ticket pricing remaining in place. We look forward to seeing you with us.
---
Submitted By: Gary Heeman
Back to News