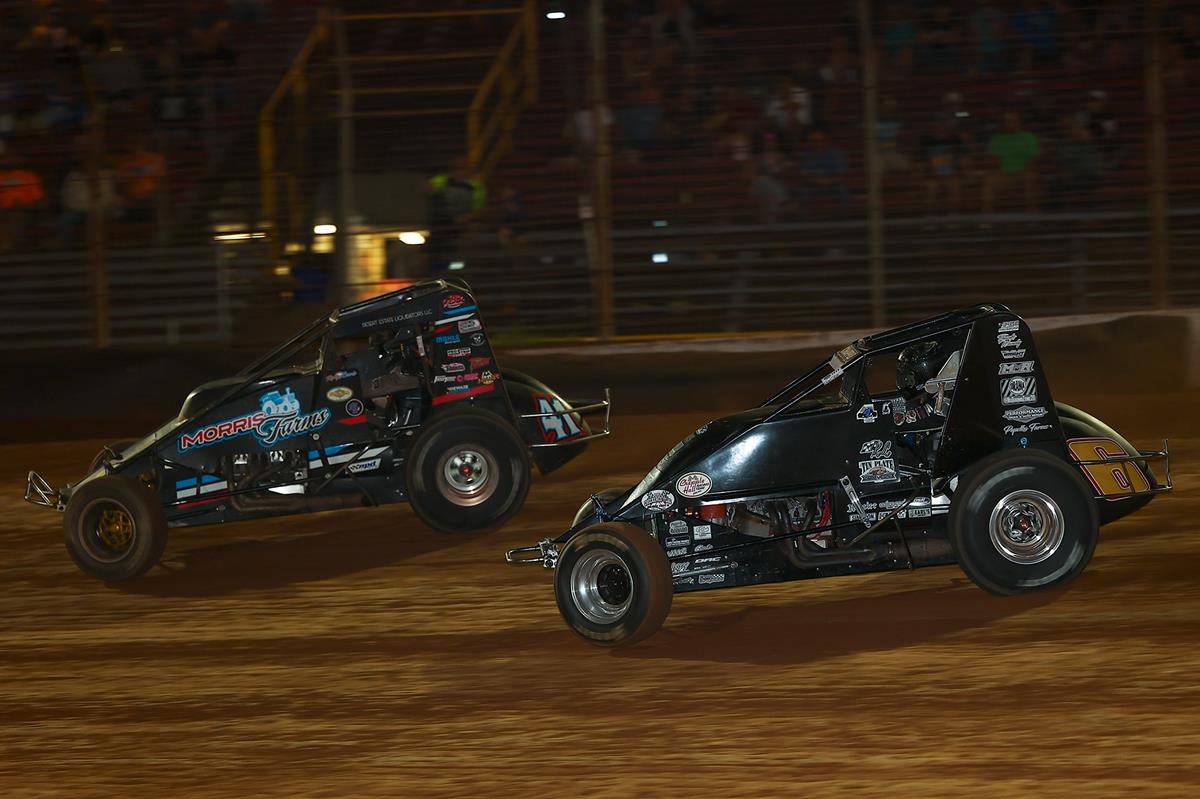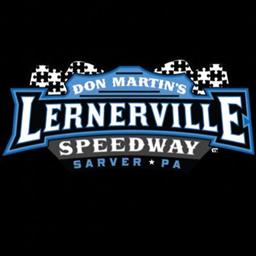 7/1/2023
Lernerville Speedway
---
Lewis Takes First BOSS Win; Krummert Takes Hard Fought Big Block Honors; Mollick Cruises in RUSH Sprints; Holden Tames RUSH Sportsman Mods
Jason Brown Photo
Sarver, PA (July 1, 2023) On Friday night at The Action Track, the wings came off and the earth did shake as a four division program greeted fans in attendance as the Buckeye Outlaw Sprint Series, Diehl Automotive Big Block Modifieds, and both the Hovis Auto & Truck Supply RUSH Sprint Cars and Sportsman Modifieds set out to entertain the crowd on hand. On the track, the intrigue centered a bit on BOSS Sprint driver Issac Chapple who was in search of his third straight victory at Lernerville, and on the close points battle at the top of the Big Block Modified standings between Garrett Krummert and Rex King Jr. And the intrigue factor also went through both the RUSH Sprints and Sportsman Modifieds who were making their first of several appearances at Lernerville on Friday night, with drivers looking for an upper hand perhaps for the upcoming RUSH Summer Showcase.
Lewis Takes First Career BOSS Series Win in Impressive Fashion
A good many eyes were on Indiana based pilot Issac Chapple who had commanded the field in his two previous appearances at The Action Track in BOSS Sprint Series action. And after a dominant performance in his heat race earlier in the evening plus a pole pill draw, a third straight win began to look more and more likely as the minutes passed.
Chapple led the field to the green flag flanked by Cody Gardner on his outside and Gardner quickly went to work taking the early lead with Chapple and Parker Frederickson right behind him in the early going. Chapple then dove to the bottom in turns three and four and made his way past Gardner coming to the flagstand on lap two as Gardner then battled right back as the two front runners swapped the lead back and forth until Chapple pushed ahead to take a solid lead with four laps in the books. Meanwhile, behind the leaders were a formidable chase pack consisting of Carmen Perigo Jr., sixth starting Ricky Lewis and Frederickson. With five laps down, Lewis made his way around Perigo and then made his way under Gardner a lap later to wrest the second spot away.
Out front, Chapple had amassed a 10 car length advantage over the field as Perigo made his way past Gardner for the third spot with 16 laps remaining. Chapple used the bottom of the speedway to his advantage while Lewis and Perigo used the top side of the surface, using the ample amount of momentum that was held there. All action came to a halt with 12 laps down as a cone had been knocked into the track in turn four, and when racing got back underway, the red flag came out almost immediately as Paul Dues who tipped over in turns one and two. During the stoppage, it was revealed that Frederickson's chances for the win had suffered a turn for the worst as his right rear tire was flat. When racing resumed, Chapple found himself unable to drive away from the pack and more specifically, Lewis who began to give chase of the leader using the low side of the speedway and after an exchange of slide jobs found himself in the lead with 16 laps down. Lewis then began stacking car lengths between himself and Chapple while a determined Jesse Vermillion had made his way to the third spot using the bottom groove. Out front though, Lewis was showing no signs of letting off the gas pedal, seemingly getting quicker with each lap as he crossed under the checkered flag first for his first career win with the series as Chapple and Vermillion rounded out the podium.
"Yeah, I love this place!" Lewis said in Terry Bowser Excavating Victory Lane. "I liked it the first time I came here. Last year it really didn't suit my driving style but this year it really did. The whole time you think they're right on you but after the checkered I got sideways and didn't realize the lead I had. This is the second race we've won in a row in this thing, it's badass, I love these type of cars. We struggled a bit last year and they didn't give up on me, they continued to race with me this year and our speed has shown every single night. This has been a heck of a year, I'm speechless."
Buckeye Outlaw Sprint Car Series Feature: (Finish-Name-[Start]) 1. 41-Ricky Lewis[6]; 2. 5V-Jesse Vermillion[5]; 3. 6-Isaac Chapple[1]; 4. 1H-Korbyn Hayslett[8]; 5. 21-Carmen Perigo Jr[3]; 6. 9G-Cody Gardner[2]; 7. 73-Blake Vermillion[12]; 8. 24L-Lee Underwood[10]; 9. 49-Brian Ruhlman[7]; 10. 98-Saban Bibent[14]; 11. 34-Parker Frederickson[4]; 12. 53-Steve Little[11]; 13. 87-Paul Dues[9]; 14. 4K-Bill Kiley[13]; 15. 87X-Jim Dues[16]
Krummert Holds Off Thomas En Route to Victory
The Diehl Automotive Big Block Modifieds returned on Friday night after a two week hiatus thanks to a rainout on June 16 and last week's Firecracker 100 weekend. When they'd left off following action on June 9, former track champions Garrett Krummert and Rex King Jr. were separated by just one point in the standings and by the time they loaded up, their battle results hadn't changed much. However, every point matters in a championship battle and on Friday night, Krummert was in the mood to take all he could get.
It was a veteran, multi-discipline pilot on the pole for the start of the 25-lap main event as Will Thomas, teammate to Krummert brought the field to the green flag alongside eight-time track champion Brian Swartzlander, who made his way around Thomas in turn two and kept the advantage at the flag stand with two laps in the books. Swartzlander looked solid running the top side of the speedway, while behind him, the second running Thomas had a hungry pack of competitors including the sixth starting Krummert, Steve Slater and Jeremiah Shingledecker. Out front, Thomas was taking looks under Swartzlander as the two leaders managed to stay within a half second of each other with 20 laps to go.
Behind the action up front, King was making his way forward with authority, coming from his 10th starting spot to join the chase pack with 10 laps down. Swartzlander began to encounter lapped traffic as Krummert made his way to the bumper of Thomas and then around him for the second spot as the top three cars were separated by less than a second and breaking away from the pack behind them. Krummert then set his sights on the leader taking looks underneath Swartzlander until he made a pass coming out of turn four stick at the flag stand with 11 laps down. Swartzlander then crossed his groove, coming down low in an attempt to re-take the lead in turn four, making some door contact in the process. However, Krummert carried on unfazed and defended his low groove with precision. Swartzlander then began to slow on the top side of the speedway, bringing out the caution flag with nine laps to go.
The break seemed to be all King needed to put himself in position to make up ground on the leaders, and he took full advantage of it, springing from eighth on the grid to fifth on the restart as Thomas began taking looks to the top of Krummert for the lead. The two cars battled door to door with Krummert on the bottom and Thomas up top with the two drivers swapping the lead at the flagstand on multiple occasions. Krummert found some extra bite on the top of turn four and it was just enough to push himself past Thomas while King passed Jeremiah Shingledecker, and Steve Slater to put himself in position to compete for the win as Slater spun in turn four on the high side coming to the white flag, setting up a green-white-checkered finish. When action resumed, Krummert was solid on the restart and gave himself just enough of a margin to claim his second win of the season while Thomas held off King for the second spot.
"I think the bottom was going away and was starting to shine off and wasn't as good, so I figured we had one shot, " Krummert said regarding his choice to restart on the top side with two laps remaining. "We've had an unbelievable season honestly. We want to win every week and typically we only win two or three races a year and this year we've won four of five already so it's been a hell of a season."
Diehl Automotive Feature: (Finish-Name-[Start]) 1. 29-Garrett Krummert[6]; 2. 9-Will Thomas[1]; 3. 165-Rex King Jr[10]; 4. 61-Dave Murdick[5]; 5. C3-Chas Wolbert[7]; 6. 45-Steve Feder[14]; 7. 37MD-Jeremiah Shingledecker[4]; 8. 18-Colton Walters[12]; 9. 20P-Mike Kinney[8]; 10. 35-Steve Slater[3]; 11. 14S-Justin Shea[11]; 12. 5C-Ayden Cipriano[17]; 13. 27R-Dave Reges[16]; 14. (DNF) 75-Jeff Miller[13]; 15. (DNF) 83-Brian Swartzlander[2]; 16. (DNS) 51-Clyde Gumpp; 17. (DNS) 13-Rick Regalski
Mollick Cruises to RUSH Sprint Feature Win
Toronto, Ohio pilot John Mollick has won features in almost every type of car at The Action Track over the years. However, when one looks deeper within the statistics, his best winning percentage per number of appearances may very well just be in the RUSH Sprint Cars. Having won a feature within the division last year, Mollick looked primed to add yet another trophy from the Sarver Speedplant, but he faced substantial competition and a full field of cars which contained the other favorites.
The always formidable Gale Ruth Jr. started the 20-lap main event on the pole alongside Mollick, while behind them lurked a tough pack of cars with Kevin Ruhlman, Blaze Myers and Chad Ruhlman all starting in the first three rows and when action got underway, Ruth seized the early advantage until Mollick made his way back around coming out of turn two with two laps down. Mollick then simply drove away from the field as he'd been shot out of a cannon while behind him, Ruth led the chase pack of Myers, Brian and Kevin Ruhlman. Coming forward to join the party at the front from his ninth starting spot was veteran pilot Arnie Kent.
With seven laps down, Mollick began to encounter substantial lapped traffic in front of him which he navigated successfully while adding to his sizable, three second advantage over Ruth. Meanwhile, Myers began setting up a potential pass of Ruth past the halfway point when all action slowed with 14 laps down for Tyson Graves who went off the top of turn four. When racing resumed, Mollick once again put the boots to the field, driving away from his closest competitors while Kevin Ruhlman moved into the third spot past Myers who made his way back around just a lap later. Kent used the restart to vault from sixth to fourth, but out front, it was Mollick who cruised to Terry Bowser Victory Lane.
"In turn four I was on the edge a couple of times but we got it done," Mollick said. "My guys have been tweaking on this thing for weeks now and we finally found something that fits me, fits the car and we're just rolling with it."
Hovis Auto & Truck Supply RUSH Sprint Car Feature: (Finish-Name-[Start]) 1. 4J-John Mollick[2]; 2. 24-Gale Ruth Jr[1]; 3. 43JR-Blaze Myers[4]; 4. 9-Arnie Kent[7]; 5. 68-Chad Ruhlman[5]; 6. 68K-Kevin Ruhlman[3]; 7. 20-Jeff Metsger[15]; 8. 1T-Rick Tucker[6]; 9. 41-Brian Cressley[12]; 10. 6-Rod George[10]; 11. 1-Zack Wilson[9]; 12. 23-Charlie Utsinger[16]; 13. 69X-AJ MacQuarrie[13]; 14. 5BX-Rick Regalski[14]; 15. 17-Trent Marshall[19]; 16. 13K-Kevin Kaserman[17]; 17. 16C-Amelia Clay[20]; 18. 11-Don Blaney[21]; 19. 15-Lacey Shuttleworth[18]; 20. 4Y-Philip Young[24]; 21. 19-Brad Blackshear[8]; 22. 25G-Tyler Graves[11]; 23. 54-Devon Deeter[23]; 24. 10-Brandon Blackshear[22]
Holden Tames RUSH Sportsman Mods
JC Boyer and Ayden Cipriano started out front in the 20-lap RUSH Sportsman Modified main event as Boyer got out the the early lead, but emerging quickly from his fifth starting spot was a determined Kole Holden who was one of the earliest feature winners at The Action Track within the division. Holden made to the third with less than two laps in the books as he began taking looks underneath the strong running series points leader Cipriano. Holden completed the pass for second with five laps down and set his sights on Boyer out front while behind him, Jacob Wolfe and Jordan Ehrenberg held the back of the top five.
With eight laps in the books, Holden was making a serious bid for the lead as Boyer made it difficult by running just one half groove below Holden. However, on lap nine, Holden would not be denied as he drove hard into turn one making slight contact with Boyer, and then emerged as the leader down the backstretch. Cipriano then set his sights on Boyer while holding off Wolfe when the yellow flag waved for Cayden Petry who was in a precarious position on the speedway. There were five laps remaining when action resumed as Holden selected the low side of the speedway to use for the restart. Holden pegged the restart and resumed his lead while Cipriano and Wolf battled with contact into turn one while Ben Easler threw himself into contention, passing all the way to fourth in a wild frenzy up front. The cars of Boyer, Wolfe, Easler and Cipriano were all under a blanket for positions two through five and just three laps remaining. Cipriano then made one final charge, passing three cars on the final lap to finish second, but out front, Holden was too strong to pass and took a hard fought feature win.
"The car was working great all night." Holden said. "It's been a while since I've been in victory lane here and it just feels great to be back."
Hovis Auto & Truck Supply RUSH Sportsman Modified Feature: (Finish-Name-[Start]) 1. 2-Kole Holden[5]; 2. 5C-Ayden Cipriano[2]; 3. 12-JC Boyer[1]; 4. 7-Jacob Wolfe[4]; 5. JD57-Jordan Ehrenberg[7]; 6. 10-Chelsie Kriegisch[9]; 7. 2LC-Lucas Canon[3]; 8. 1-Jim Bryce[8]; 9. 46R-Doug Rutana[6]; 10. 57R-Jacob Rutana[12]; 11. 25-Jolene Smith[17]; 12. 02-Benjamin Easler[10]; 13. 29-Cole Edwards[13]; 14. 7P-Caden Petry[15]; 15. 28J-Jacob Jordan[11]; 16. (DNS) 333G-Dalton Gabriel; 17. (DNS) 119-Joe Gibson; 18. (DNS) 1*-Jeff Watson
---
Submitted By: Gary Heeman
Back to News