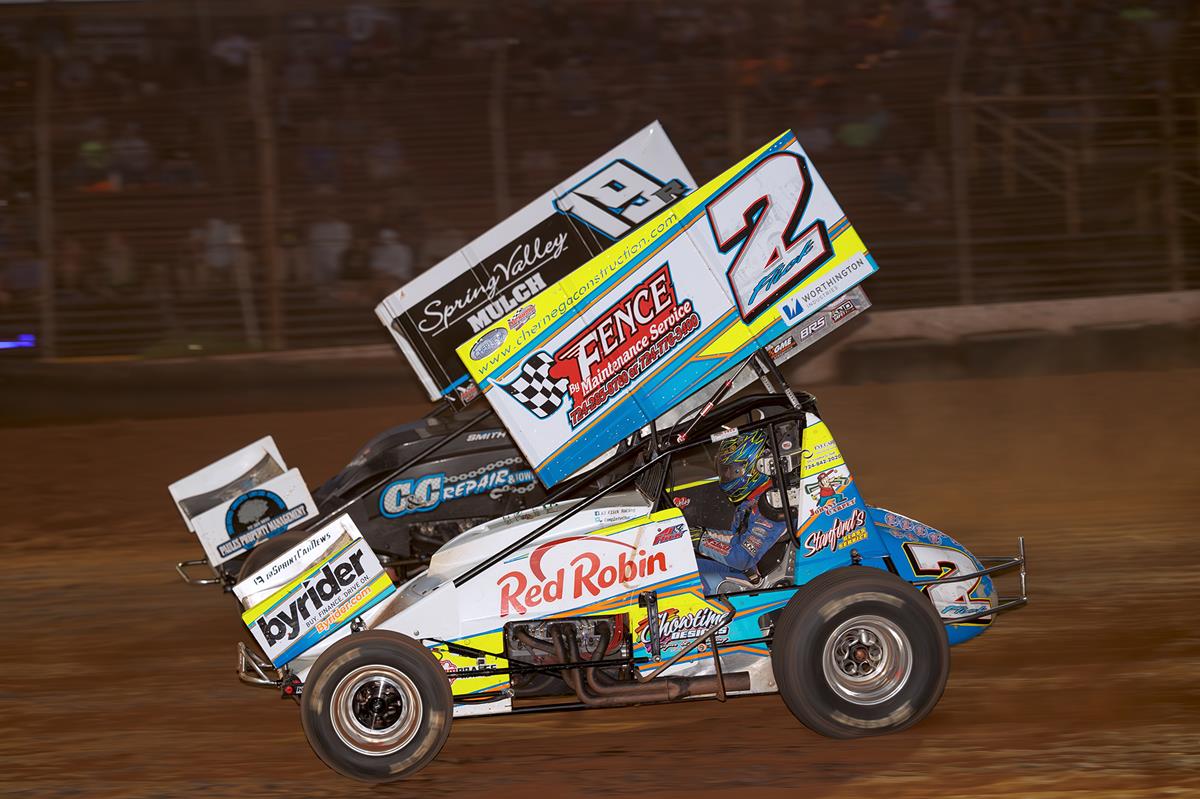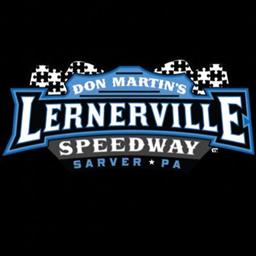 7/8/2023
Lernerville Speedway
---
Flick and King Jr. Defend Home Turf; Norris Goes Back to Back ;Dietz Makes It Five
Jason Brown Photo
Sarver, PA (July 8, 2023) The first truly hot summer night of the season brought out an interesting mix of invaders to The Action Track on Friday night as Fab4 Racing Revved Up with Marburger Farm Dairy returned from a nearly month long hiatus. And on the track, a theme emerged that was fairly prevalent throughout all four main events. No matter where you start, you've got a shot, as three of the four feature winners came from as far back as a ninth starting spot. There was also some late race magic on display as AJ Flick dazzled those in attendance with yet another last lap, last set of turns pass for the feature win in the Peoples Natural Gas Sprint Car main event, and Tyler Dietz was able to pull off a late race pass of legendary Pro Stock racer Chris Schneider to collect his fifth Millerstown Pic-A-Part Pro Stock feature win of the season.
Meanwhile, in the Precise Racing Products Late Models, Michael Norris picked up where he left off nearly a month ago, driving through a tough field of competitors en route to his second straight feature win. There was a good amount of Western, NY/Southern Ontario flair to the Diehl Automotive Big Block Modified field as four time track champion Mat Williamson returned, this time joined by the always tough Erick Rudolph and others from the area. However, when the checkered flag waved, the winner's check stayed in the area as Rex King Jr. simply refused to be run down once in the lead, collecting his second feature win of the season. Off the track, the fourth annual Ride for Kids event, benefitting the Pediatric Brain Tumor Foundation brought forth a tremendous amount of driver related merchandise for a variety of auctions as well as a driver autograph session and much more. Over $3,100 was raised for the Foundation thanks to the amazing generosity of the drivers who donated auction items and time with the children as well as the World's Finest Race Fans who once again stepped up for a very worthwhile cause.
Flick Uses Last Lap Magic Once Again
The Peoples Natural Gas Sprint Car field was invaded by some strong competition, as recent Attica feature winner Zeth Sabo, Central, PA veteran Mark Smith and a talented, young Bobby Elliot who hauled all the way from Michigan. Meanwhile, AJ Flick, who came into the night with a healthy points lead and four feature wins on the season, found himself handicapped back to the 10th starting spot by virtue of his feature win during his last appearance. However, the handicap was soon erased, leaving the formidable invaders starting ahead of him to deal with.
Veteran pilot, Bob Felmlee brought the field to the green flag flanked by Darin Gallagher on his outside and when action commenced, Felmlee got a great jump and took a firm command of the field while week two feature winner Dan Kuriger slipped past Gallagher for the second spot momentarily before taking the spot back with two laps down. Meanwhile, Flick wasted no time in dispatching the traffic ahead of him behind his tail tank, moving forward to the seventh spot after passing Zabo and Brandon Matus in a rapid fire succession with three laps down. The seventh starting Smith then began applying pressure to Gallagher after having moved past Elliot, Dale Blaney and Kuriger.
Out front, Felmlee was building a five car length advantage over Gallagher as he started encountering lapped traffic at the seven lap mark. Felmlee and Gallagher both worked on the top side of the speedway effectively, but coming quickly behind them was Smith who slid under Gallagher coming out of turn four with 10 laps down to secure the second spot at the flag stand. Smith then went to work sizing up Felmlee who moved down low in turns one and two with 12 laps down as Smith used the high side down the backstretch to power past Felmlee and assume command of the field. Behind them, Gallagher , Blaney and Flick made up the chase pack which had half a race left to sort out and find a way to catch Smith who was setting a blistering pace out front. One lap later, Flick emerged from the pack, passing Blaney and Gallagher along the way to assume the third spot, and on lap 14 took second from Felmlee. Flick had a challenge ahead of himself though as Smith had amassed a half straightaway gap ahead of him and there were now just 10 laps left to track and pass the solid running race leader.
Flick found the bottom of turns one and two to his liking but worked high in turns three and four, moving for lapped traffic when necessary. The adjustment in lines worked as Flick began shaving Smith's lead down by tenths of second per lap as Smith bobbled a bit on the cushion to help further close the gap. With just three laps to go, Flick began taking looks under Smith for the lead but the wily veteran moved lower in turns one and two in order to stay out front. On lap 24 Flick threw a slide job coming out of turn four that came up just short yet it did not slow his momentum, giving him one final chance to come up with a last lap miracle. Smith shot down to the bottom of turns one and two again on the final lap but up top, Flick took any chance of Smith drifting up away by using the topside momentum down the back stretch and around turns three and four where he sailed past Smith for the win just before the finish line in dramatic fashion.
"Did you guys enjoy that," a joyous Flick asked of the crowd in Terry Bowser Excavating Victory Lane. "When you got Mark Smith and Dale Blaney in front of you and the rest of out Lernerville locals, there's no easy task here. This place just confuses the heck out of me, we had five cautions in an eight lap heat race and then it goes nonstop. When I saw there was two to go at the flag stand there was so much dust I thought there was five to go and then I saw the white and say oh boy, and I didn't know if I had enough time or not but Mark tried to protect and that was all I needed to get a run."
Peoples Natural Gas Sprint Car Feature: (Finish-Name-[Start]) 1. 2-AJ Flick[10]; 2. 19R-Mark Smith[7]; 3. 32-Dale Blaney[6]; 4. 5E-Bobby Elliott[4]; 5. 6-Bob Felmlee[1]; 6. 12-Darin Gallagher[2]; 7. 08-Danny Kuriger[3]; 8. 11-Carl Bowser[12]; 9. 13-Brandon Matus[8]; 10. 40-George Hobaugh Jr[9]; 11. 11J-David Kalb[15]; 12. 33-Brent Matus[11]; 13. 31C-Chase Metheney[14]; 14. 55*-Matt Sherlock[13]; 15. 4K-William Kiley[17]; 16. (DNF) 29-Zeth Sabo[5]; 17. (DNS) 29S-Dan Shetler; 18. (DNS) 4G-Justin Kovach
Norris Cruises to Precise Late Model Win
Nearly a month beforehand, Michael Norris had driven a flawless 25 laps in securing his second feature win of the season while starting dead last on the field in the Precise Racing Products Late Models main event. And on Friday night, he set out to repeat the feat so to speak, this time starting from 10th on the grid. Points leader Tyler Dietz and 2022 feature winner Logan Zarin brought the field to the green flag and once it waved, Dietz looked to have the early advantage on the opening lap until Zarin made contact with him in turns three and four which knocked Dietz off his preferred line, pushing Zarin to the lead.
Behind them, Andrew Wylie, Gary Lyle and Levi Yetter made up the rest of the top five in the early going. Zarin then slid off the top of turn two with two laps down, giving the lead back to Dietz as Wylie also slipped by relegating Zarin to the third spot. Meanwhile, Norris was coming fast and furiously up through the field ahead of him, making his way to the fifth spot with just three laps in the books. Also coming forward with authority from his ninth starting spot was Ken Schaltenbrand as both he and Norris slid through the chase pack coming out of turn four to claim the second and third spots behind Dietz with four laps down. Norris went around Schaltenbrand using the high groove one lap later for the second spot and set his sights on the race leader Dietz who had put nearly a second and a half gap between himself and the field. At the 10 lap mark, Dietz found himself in considerable lapped traffic and Norris taking looks underneath him for the position when Zach Kane spun in front of Dietz in turn four, causing the leader to take evasive action to avoid calamity as the yellow flag waved.
Dietz kept the lead as the caution waved before Norris could get back to the flag stand and when action resumed, Dietz elected the top side of the speedway to restart. When the green flag waved, Norris found momentum around the bottom that enabled him to edge just ahead of the leader, but Dietz thwarted the effort, retaining the lead at the flagstand. Schaltenbrand then began applying all sorts of pressure to Norris for the second spot, using the very bottom of the surface which had become his favored location over the years. However, Schaltenbrand just came up short in his bid to take the second spot, allowing Norris another shot at Dietz out front with 12 laps down which he was successful on one lap later as he made his way past Dietz. Norris put a sizable gap between himself and the field whole Schaltenbrand, Dietz and a re-emerging Zarin started a furious three way battle for the runner up spot past the halfway point. While the battle for second waged on, Norris put on the afterburner, building up a six second advantage over the field which was erased with Tony White slowed on the frontstretch to bring out the caution. Norris led the field to the restart with three laps to go and went unchallenged across the finish line for his third win of the season while Schaltenbrand and Zarin rounded out the podium.
"I gottta give credit to Domhoff Racing Engines, that thing was hot," Norris said. "Joe told me to run it so I was running it. With as much rain as we got here this week it was awesome how smooth it is. It's a little top dominant but Kenney was second so you know there was at least a bottom groove there too."
With the win, Norris moved into a fifth place tie on the all-time Late Model winner's list, ahead of Ben Miley and into a draw with Jared with 35 career wins.
Precise Racing Products Feature: (Finish-Name-[Start]) 1. 10-Michael Norris[10]; 2. 29-Ken Schaltenbrand[9]; 3. 1Z-Logan Zarin[2]; 4. J4-John Garvin Jr[16]; 5. 77-Tyler Dietz[1]; 6. 84-Andrew Wylie[3]; 7. 9-Levi Yetter[6]; 8. 10L-Gary Lyle[4]; 9. 11-Joshua Powell[11]; 10. 9K-Clayton Kennedy[14]; 11. 48-Colton Flinner[15]; 12. 81-Mike Miller[12]; 13. 10K-Zachary Kane[7]; 14. 01-Ron Hall[8]; 15. (DNF) 27T-Tony White[13]; 16. (DNF) C5-Travis Crawford[17]; 17. (DNF) 111-Matt Lux[5]; 18. (DNS) 1C-Alex Ferree
King Jr. Defends Home Turf In Diehl Auto Big Blocks
The typical Diehl Automotive Big Block Modified field possesses more than enough talent at the front to easily point out more than five potential winners on any given race night. However, on Friday night, the field was supplemented by former four time track champion Mat Williamson and Ransomville, NY driver Erick Rudolph who has greater than a 50% chance of winning during his limited trips to The Action Track. Current points leader Garrett Krummert and former track champion Rex King Jr. were both looking to keep the money in the area on Friday night as the field made its way to the green flag with 2022 feature winner Chas Wolbert on the front row alongside King and early on, Wolbert maintained the advantage ahead of King, Jeremiah Shingledecker, Rick Regalski and Colton Walters.
With three laps in the books, King took looks to the outside of Wolbert and made his way past coming to the flagstand as the new race leader while behind them, 11th starting Williamson and ninth starting Krummert were making progress towards the front of the field with precision and purpose. Rudolph then began joining the chase pack from his 10th starting spot. Krummert, Williamson and Rudolph took up positions four through six with seven laps in the books. Meanwhile, out front all eyes were on King who was a man on a mission once in the lead, putting a sizable gap between himself and second running Wolbert who on lap eight brought out the caution flag with a spin in turn two following contact with Shingledecker.
The jingle allowed Krummert to restart second alongside King, who elected to restart on the outside and gave new hope to Williamson who restarted fourth.
Krummert and King swapped the lead for two laps before King emerged fully in control ahead of Krummert and Williamson with Rudolph taking up the fourth spot just past the halfway point. As the laps dwindled in the second half of the 25 lap main event, Krummert and Williamson kept moving around on the surface looking for any line they could use to track King out front as King had plenty of open track ahead of him. However, neither could find a way to shave down King's lead. Williamson made his way around Krummert to take the second spot with five laps to go, but he had no solution for King who was the class of the field on this night.
"The track was pretty good, it was kind of racy," King said. "Garrett was showing me a nose down there so I had to move down and kept moving around. The track's fast on both ends and you come up to lapped cars and you can't get by them and they did a great job, we didn't have any problems. The cushion was a bit too big for my liking; I went over and about smacked the wall a couple of times. The other guys are great; it's good to beat them when they come down."
Diehl Automotive Feature: (Finish-Name-[Start]) 1. 165-Rex King Jr[2]; 2. 6-Mat Williamson[11]; 3. 29-Garrett Krummert[9]; 4. 25-Erick Rudolph[10]; 5. 37MD-Jeremiah Shingledecker[4]; 6. 45-Steve Feder[5]; 7. 18-Colton Walters[7]; 8. 37S-Gary Lindberg[12]; 9. 61-Dave Murdick[6]; 10. 13-Rick Regalski[3]; 11. C3-Chas Wolbert[1]; 12. 83-Brian Swartzlander[13]; 13. 9-Will Thomas[19]; 14. 09-Trevor Wright[14]; 15. 14S-Justin Shea[8]; 16. 20P-Mike Kinney[17]; 17. 18JR-Mike Dougherty Jr[16]; 18. (DNF) 35-Steve Slater[15]; 19. (DNF) R13-Ralph McBride[18]
Dietz Outduels Schneider to Collect Fifth Win of the Year
Since deep field runs seemed to be the theme of the night, Millerstown Pic-A-Part Pro Stock driver Tyler Dietz was hoping to extend the vibe over into their 20-lap main event. However, with a stacked field of cars in terms of both talent and numbers, it would be no easy chore indeed. Chase Lambert and Chris Schneider started on the front row and once underway, Schneider took early command of the field albeit for a brief time as contact between Bobby Whitling and Mike Miller forced Miller over the top of the backstretch and disabling his car in the process with two laps in the books. When action resumed, Schneider led Tim Bish, Lambert, Whitling and Dietz until Brandon Doland and Brandon Connor made contact in turn four slowing all progress once again. The race refired with 15 laps to go as Schneider maintained the lead while Dietz snuck under both Whitling and Bish on the same lap to come up with the second spot.
The duel was then on as Schneider led Dietz with seven laps in the books as Bish, Lambert and Whitling battled for the remaining top five spots. Dietz then began whittling away at Schneider's advantage, trimming it to under a second just past the halfway point as lapped traffic became a factor for Schneider out front who was looking at a steady line of lapped cars all running the bottom groove and less than five laps to go. The complexion of the race then changed when Brandon Doland went over the backstretch with just three laps to go, shaping up a duel between two of the best Pro Stock drivers to ever grace the Lernerville clay. Schneider elected to start on the bottom and when action resumed, Dietz took off on the top side as if he'd been shot out of a cannon, edging ahead of Schneider at the flagstand for his first lead of the night, a lead he would not lose as he claimed his fifth feature win of the season.
"It's pretty nice racing in this class where you got you get some respect and you don't have guys wrecking you on the first lap." Dietz said. "That was a really good race. After the Firecracker I was really going to dedicate myself to getting better at running the top because I suck at it, so Brian Daugherty's been beating it into my head and I just said tonight I'm running the top the whole time. It's just fun to be able to race with people who show respect like that, it's a nice way to cap off the night."
Millerstown Pic-A-Part Feature: (Finish-Name-[Start]) 1. 00-Tyler Dietz[9]; 2. 55S-Chris Schneider[2]; 3. 22-Chase Lambert[1]; 4. 27-Jacob Dietz[5]; 5. 11B-Tim Bish[4]; 6. 7W-Bobby Whitling[8]; 7. 1K-Cody Koteles[12]; 8. 25-Brett McDonald[11]; 9. 12M-Trevor McCann[14]; 10. 155-Tyler Schneider[17]; 11. 55-Brandon Connor[19]; 12. 68-John Peterman Jr[21]; 13. 71-Joey Anderson[18]; 14. 00L-Cole Miller[10]; 15. 26-Mike Bordt[3]; 16. 8C-Brandon Doland[15]; 17. 0-Larry Kugel[7]; 18. 4-Brett Hutira[16]; 19. 99T-Theo Baumgartner[20]; 20. 81-Mike Miller[6]; 21. (DNS) C33-Corey McPherson; 22. (DNS) 15-Rick Potter; 23. (DNS) 948-Joey Zambotti III
The first free pit passes of the season began flowing on Friday night courtesy of the Hovis Auto & Truck Supply Loyalty Rewards Program with approximately 21 passes awarded. The Loyalty Rewards Program offers each team a free pit pass upon their completion of six Fab4 race nights and throughout the remaining Fab4 racing season. Panza Supply Harder Charger of the Night honors went to John Garvin Jr. who finished plus 12 positions from his starting spot in the Precise Racing Products Late Model main event. Fab4 racing returns next Friday night for our annual Christmas in July event.
---
Submitted By: Gary Heeman
Back to News