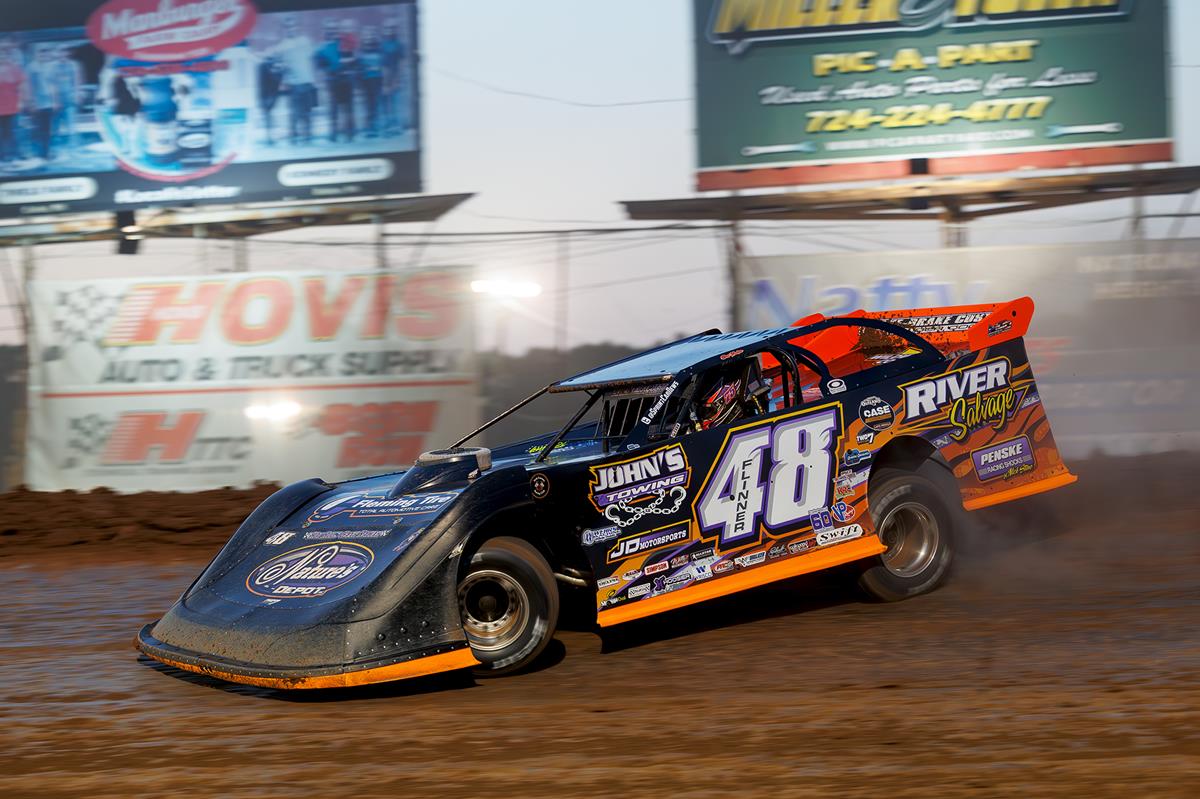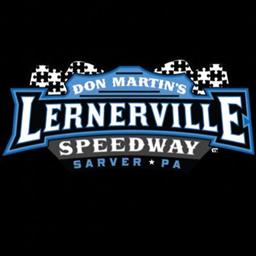 7/15/2023
Lernerville Speedway
---
Flinner Scores Emotional Win in Precise Lates; Matus Wires Peoples Sprints; Krummert Outduels King in Diehl Big Blocks; Daugherty Cruises in Stocks
Jason Brown Photo
Sarver, PA (July 15, 2023) There was holiday spirit in the air on Friday night at The Action Track as fans were greeted with music and a speedway adorned appropriately for the annual Christmas in July night presented by Panza Supply. On the track, the Fab4 Revved Up with Marburger Farm Dairy did not disappoint as Colton Flinner came forward with authority from his eighth starting spot to claim a hard fought feature win with the Precise Racing Products Late Models. Meanwhile, Brandon Matus kept the field behind him for each of the 25 laps that made up the Peoples Natural Gas Sprint Car main event. In Diehl Automotive Big Block Modified action, Garrett Krummert maintained his points lead as he edged his closest pursuer, Rex King Jr., coming to the checkered flag for his third win of the season. And in Millerstown Pic-A-Part Pro Stock action, Brian Daugherty walked another stout field to collect his first feature win of 2023.
Flinner Scores Emotional Feature Victory In Precise Lates
Colton Flinner had about run out of patience with his car to this point of the season. His 2023 results, although not bad as evidenced by three top five showings in six race nights, had lacked a win on the Lernerville clay. But after some retooling, his car was one fast hot rod on Friday night, and the difference mechanically, blended with some timely moves on the driver's part to come up with an appearance in Terry Bowser Excavating Victory Lane.
Matt Lux and John Garvin Jr. brought the Precise Racing Products Late Model feature to the green flag where Lux immediately found himself in a three way battle for the lead with Garvin and Logan Zarin with Garvin taking command of the field in the early going. Lux and Zarin then went into a fierce battle mode for the second spot while still within two car lengths of Garvin out front. Behind them, the battles were heating up in the top five as an invading Chub Frank running fourth, was holding off a strong challenge from Alex Ferree, Jon Lee and Flinner who had started his climb from his eighth starting spot.
Out front, Lux ran down Garvin with four laps in the books and swapped the lead until he rode over the banking in turn two slightly allowing Garvin to reclaim the top spot.
Frank then went to work on Zarin with Ferree directly behind him until a caution came out for a Ron Hall spin in turn four with six laps down. On the restart, Garvin quickly shot out to the lead as Frank moved to the third after he, Flinner and Ferree managed their way around Zarin to take up positions four and five. Frank then went to work on Lux for the second spot working on the low side of the speedway. Lux, who had been making his best progress on the high side of the surface then fought his way back around Garvin to the lead with 10 laps in the books, but slowed and went pitside immediately following the pass giving the lead back to Garvin. Flinner meanwhile, made his way to third and began applying heavy pressure to Frank, showing looks underneath him in turns three and four while moving back up high in turns one and two. Flinner then caught a good bit of momentum coming off the top of turn two with 10 laps to go, which allowed him to pass Frank and then immediately put him at Garvin's rear bumper.
Garvin had entered heavy lapped traffic with eight laps to go and slightly crept up the track in turns one and two, leaving just enough of a seam for Flinner to sneak into and when they emerged onto the back stretch, Flinner had nudged ahead and immediately put space between himself and Garvin. Frank then began to look underneath Garvin for the second spot which enabled Flinner, with pieces of lapped traffic to use ahead of him start driving away from his pursuers with six laps to go. Flinner's manuerability was key as he could seemingly put the car in any groove and not lose speed as Frank put Garvin behind him for the second spot with two laps left. But out front, the night belonged to Flinner who drove a flawless race en route to capturing his first feature win of the season.
"It was unbelievable," an emotional Flinner said in victory lane. "My dad's battling cancer really bad and just to be able to win; I don't know how much time ge has left so this really hits home for me. It means the world to both of us. My dad's my hero."
Precise Racing Products Feature: (Finish-Name-[Start]) 1. 48-Colton Flinner[9]; 2. 1*-Chub Frank[8]; 3. J4-John Garvin Jr[2]; 4. 1C-Alex Ferree[7]; 5. 77-Tyler Dietz[12]; 6. 1Z-Logan Zarin[3]; 7. 5L-Jon Lee[6]; 8. 9-Levi Yetter[5]; 9. 29-Ken Schaltenbrand[11]; 10. 11-Joshua Powell[14]; 11. 66-Todd Bachman[15]; 12. 81-Mike Miller[17]; 13. 27T-Tony White[18]; 14. 9K-Clayton Kennedy[16]; 15. 10L-Gary Lyle[13]; 16. 01-Ron Hall[19]; 17. 21-Matt Lux[1]; 18. 12B-Andy Boozel[4]; 19. (DNS) 10-Michael Norris
Matus Wires Peoples Sprint Field
Following a plus three performance in his heat race, Brandon Matus knew he had a fast car virtually out of the hauler on Friday night. The heat race result put him in position for a feature redraw and for once, lady luck was on his side has he started on the pole of the 25 lap Peoples Natural Gas Sprint Car main event. And once the green flag waved, Matus was in complete control as he refused to be reeled in while en route to his first feature victory of the season at The Action Track.
Matus was flanked by Frank Neil on the front row, and when action got underway Matus rocketed from the bottom side of the speedway to the lead as the field sorted out behind him with Jack Sodeman Jr. running second and Darin Gallagher in third. Meanwhile, coming forward in ninja like fashion was six time and defending track champion AJ Flick who started last in the field and moved to the 11th spot in a lap and a half. A stopped Jon Carpenter brought out the caution flag with just three laps down and a caution on the restart for Matt Sherlock who had gone over the banking in turn two stopped all forward progress. When action got back underway again, Matus maintained his advantage once again using the low side momentum first, then the high side when out front.
Meanwhile, Dan Shetler was coming forward quickly from his seventh starting spot to enter contention using the bottom of the speedway. Shetler wrested the third spot away from Gallagher with six laps in the books and began taking looks under Sodeman for the second spot when the caution came out for a slowing Gallagher with seven laps down. The early cautions were a blessing for Flick, who now occupied the fifth spot and had a restart ahead of him with more than half the race yet to run. However, he found the going more difficult the closer he got to the front as Matt Farnham, Sodeman and Shetler battled for the second spot in furious fashion. Farnham took the third spot from Sodeman and Flick found his way around him with 14 laps left as up front, Matus was flying up on top in the lead. Farnham was able to make up some ground with Matus looking at heavy lapped traffic ahead of him as the laps wound down, but Matus found an extra gear and stacked three to five car lengths between himself and his closest pursuer en route to the the checkered flag as Farnham and Flick rounded out the podium.
"Merry Christmas to me," Matus said. "AJ starting in the back definitely helped. We'll take it. I mean winning from the pole might not feel as good but when you haven't been in this victory lane in a few years it feels damn good."
Peoples Natural Gas Sprint Car Feature: (Finish-Name-[Start]) 1. 13-Brandon Matus[1]; 2. 7NY-Matt Farnham[6]; 3. 2-AJ Flick[18]; 4. 29-Dan Shetler[7]; 5. 08-Danny Kuriger[8]; 6. 40-George Hobaugh Jr[11]; 7. 33-Brent Matus[9]; 8. 23JR-Jack Sodeman Jr[4]; 9. 44-Pete Landram[12]; 10. 25-Jarrett Rosencrance[14]; 11. 23-Jimmy Light[10]; 12. 57N-Tyler Newhart[15]; 13. 88N-Frank Neill[2]; 14. 4K-William Kiley[16]; 15. 55*-Matt Sherlock[3]; 16. 12-Darin Gallagher[5]; 17. 76-Davey Jones[13]; 18. 22C-Jon Carpenter[17]
Krummert Outduels King for Big Block Win
Garrett Krummert's season is developing into a season to remember indeed. Having already scored two feature wins in back to back fashion at Lernerville as well as two BRP Mod Tour wins plus two other wins in area action, Krummert's skills and car have seemingly jumped to a new level. That skill was on display on Friday night as he kept a stout field behind him that included a late race battle for the win with Rex King Jr who currently resides in second place in the point standings.
Eight time track champion Brian Swartzlander started on the pole alongside Krummert and when action got underway, Krummert went straight to work on the top side of the speedway, taking a slight early advantage over Krummert when the caution flag waved on turn two for a stopped Jeremiah Shigledecker spin which was determined be caused by the chrome horn of Chas Wolbert who was sent to the tail for rough driving. When action resumed, Krummert and Swartzlander ran neck and neck for the lead while moving forward quickly was Rex King Jr. who came from the 10th starting spot to third in the first four laps of the 25 lap main event. Will Thomas made his way back around a lap later to re-take the third spot back from King while out front; Swartzlander was all over Krummert for the lead with Swartzlander using the bottom of the speedway and Krummert up top. With 10 laps in the books, Kummert held a slight advantage over Swartzlander as King made his way to third once again and set his sights on the front runner.
At the halfway mark, King used the low side of the speedway to run down Swartzlander and began taking looks for a pass which he completed with 11 laps to go and found Krummert ahead of him by just three car lengths. Krummert was now in heavy lapped traffic with King all over his rear bumper as the laps wound down with King eventually catching and making contact down the backstretch in a bid for the lead with eight laps to go. However, Krummert maintained his speed and the lead at the top of the speedway with one final batch of lapped traffic left in front of him. With three laps to go, the leaders found themselves with Tom Glenn in front of them down the backstretch and split with King down low and Krummert up top, giving a slight advantage to King coming out of turn four and onto the front stretch with two laps to go. Krummert then found all the speed he could muster as they passed the flag stand, giving himself just enough of an advantage to clear King and head for the bottom side heading into turn one. The two drivers then went back to their preferred lines until Krummert dove low one last time to clear a lapped car which sealed the win at the flag stand, Krummert's third feature in at Lernerville of the season.
"Sometimes I think starting up front here isn't any good because I just don't know where to be," Krummert said. "The scoreboard's awesome for the fans but it's terrible for us because I try to watch it and see where they're at and I couldn't see it on the camera. I was like 'come on, they gotta show me who's behind me', and I was kind of screwing around with lapped traffic and I just had to take the line away on the bottom. If I'm gonna race hard with somebody I want to race with him (King Jr.), he's gonna race me clean and if I get into him a little bit he's gonna get into me but not wreck me, it's never intentional so if I could race with anybody up front it would be Cooter."
Diehl Automotive Feature: (Finish-Name-[Start]) 1. 29-Garrett Krummert[2]; 2. 165-Rex King Jr[10]; 3. 83-Brian Swartzlander[1]; 4. 9-Will Thomas[5]; 5. 37MD-Jeremiah Shingledecker[7]; 6. 61-Dave Murdick[8]; 7. 45-Steve Feder[9]; 8. 18-Colton Walters[3]; 9. 13-Rick Regalski[11]; 10. C3-Chas Wolbert[6]; 11. 35-Steve Slater[12]; 12. 60-Tom Holden[14]; 13. 83T-Tom Glenn[16]; 14. 5A-Austin Eyler[18]; 15. 10-Chelsie Kriegisch[15]; 16. 27R-Dave Reges[17]; 17. 75-Jeff Miller[4]; 18. 64-Rodney Beltz[13]
Daugherty Cruises to First Victory of the Year in Pro Stocks
Intergra Shock guru aka The Dirt Dr., Brian Daugherty doesn't stop by The Action Track every Friday night. But when he does, he's always a threat to score a top five finish or a win. On Friday night, he was more than a threat, he was a man on a mission.
Daugherty started on the pole of the 20-lap Millerstown Pic-A-Part main event and he was flanked by regional standout Curt Bish Jr. and when the green flag waved, Bish got out to the early advantage working the top side of the speedway. However, it was a short lived lead as Dougherty found the low to middle groove in turn four to his liking and made his way past Bish at the flag stand on lap two. Behind them, Chase Lambert, Douglas Eck and Jason Fosnaught made up a formidable chase pack in the early going as Chris Schneider also joined the party with four laps down.
Fosnaught made his way to the third spot while out front, Daugherty was stacking seconds between himself any anybody in the field, amazing a near straightaway advantage over Bish running second. Daugherty into the lapped traffic battle with eight laps down which he glided underneath with ease while points leader Tyler Dietz made his way to the fourth eight laps down which he glided underneath with ease while points leader Tyler Dietz made his way to the fourth spot.
With five laps to go, Bish slid off the back stretch, surrendering the second spot to Fosnaught. Bish attempted to battle back but was unable to run down Dietz or Fosnaught as Daugherty finished a fast and smooth clinic out front to collect his first feature win of the year.
"Im pretty good about giving advice on how to get around this place," Daugherty said. " And I try to help as many people as I can with Integra. The car felt really good tonight. I didn't feel good at all in the heat race and my buddy Tyler (Dietz) came down and I said 'man I don't feel good and he said don't mess with your car, it's fine' and I said alright, I'll take your advice."
Millerstown Pic-A-Part Feature: (Finish-Name-[Start]) 1. 73-Brian Daugherty[1]; 2. 25-Brett McDonald[9]; 3. 00-Tyler Dietz[10]; 4. 29-Curt Bish Jr[2]; 5. 55S-Chris Schneider[6]; 6. 22-Chase Lambert[3]; 7. 1K-Cody Koteles[18]; 8. 8C-Brandon Doland[5]; 9. 155-Tyler Schneider[8]; 10. 68-John Peterman Jr[11]; 11. 0-Larry Kugel[13]; 12. 27-Jacob Dietz[17]; 13. 12M-Trevor McCann[20]; 14. 27X-Dylan Morando[15]; 15. 26-Mike Bordt[16]; 16. 57-Jeff Hay[12]; 17. 4*-Douglas Eck[4]; 18. (DNS) 72B-Jim Kurpakus; 19. (DNS) 00L-Cole Miller; 20. (DNS) 7A-Tom Robertson
---
Submitted By: Gary Heeman
Back to News