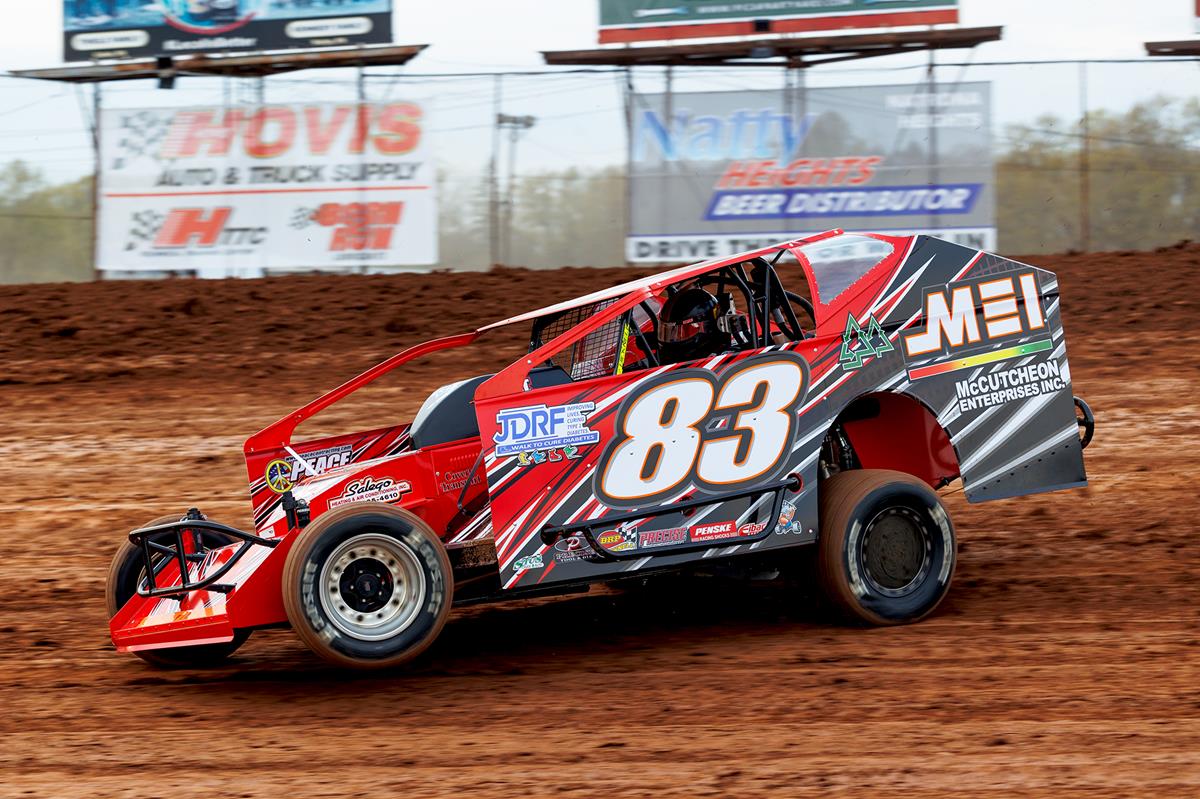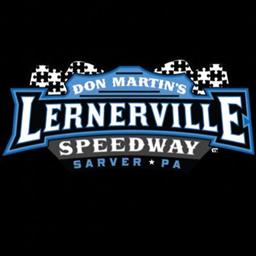 4/22/2023
Lernerville Speedway
---
Flick Scores Sprint Car Victory; Garvin Cruises in Late Models; Swartzlander Collects 101st Win; Dietz Tames Pro Stocks
Jason Brown Photo
Sarver, PA (April 22, 2023) Stacked fields of cars with a good amount of invaders and a grandstand full of the World's Finest Race Fans ready to see their first racing action of the season set the stage for a tremendous opening night featuring Fab4 weekly racing divisions. A total of 94 cars found their way to The Action Track to do battle on an unseasonably warm spring evening to do battle in the first points show of 2023, and when the dust settled, AJ Flick and Tyler Dietz found themselves in Terry Bowser Excavating Victory Lane, repeating their opening night wins in 2022. Meanwhile, defending track champion John Garvin Jr got his season started on the right foot with a win in Precise Racing Products Late Model action and eight time track champion Brian Swartzlander claimed win number 101 in the Diehl Automotive Big Block Modified main event.
Flick Defends Home Turf
A stout field of 31 Peoples Natural Gas Sprint Cars turned out for the evening's program. And, that field included some top Ohio teams who found themselves in need of a race as they advanced eastward ahead of an oncoming front that washed away racing at Attica Raceway Park. Heavy hitters such as Trey Jacobs, former Lernerville track champion Dale Blaney, Zeth Sabo, Max Stambaugh and invaders such as Scott Thiel, combined with the always tough weekly drivers, made it a formidable field to tame on Friday night. However the circumstances were coming in to the race, defending champion AJ Flick appeared not the slightest bit fazed. He was in fact, laser focused.
Flick found himself on the outside of the front row alongside Jacobs on the initial green flag and wasted no time getting on to the lead both from the outset and following a restart following a caution on the first lap. Flick rocketed around Jacobs in the first set of turns on the initial start and then elected to dive to the bottom on the restart, finding himself in the lead with a good run past Jacobs down the backstretch. Behind Flick, Thiel was already making a hard charge towards the front from his fourth starting spot when the red flag waved following an overturned Henry Malcuit in turn three.
When action resumed, Flick resumed his command of the field after the single file restart which saw Thiel challenge Jacobs for the second spot while Clark and Darin Gallagher took up positions four and five in the early going. Thiel then made his way around Jacobs to take second and then slipped off the top of turn two, giving the spot back to Jacobs who had Flick in his sights and commenced a battle for the lead. Flick started to find the back of the field at the halfway mark with Jacobs close behind and Thiel working his way back to battle for a potential win. Flick was able to maneuver in all lanes with and managed to put one car after another behind him while his closest pursuers were not able to make up ground.
Thiel then took himself out of contention when he jumped the cushion in turn two with 18 laps in the books while running second, setting up another chance for Jacobs, Dan Kuriger, Blaney and Clark to have a chance at the win or a podium spot. Meanwhile, Sabo was able to work his way from 17th to sixth to collect hard charger honors. When action resumed, Flick was simply too fast for Jacobs to catch in clean air and cruised to an opening night, statement type win.
"I knew this was going to be a fast field," Flick said. "It's probably one of the toughest regular season fields we've ever had so this is definitely high up on my list for being able to keep somebody like Trey Jacobs or Dale Blaney behind us."
Peoples Natural Gas Sprint Car Feature: (Finish-Name-Start) 1. 2-AJ Flick[2]; 2. 9-Trey Jacobs[1]; 3. 08-Danny Kuriger[6]; 4. 32-Dale Blaney[11]; 5. 78-Justin Clark[5]; 6. 29-Zeth Sabo[17]; 7. 12-Darin Gallagher[3]; 8. 29S-Dan Shetler[14]; 9. 11-Carl Bowser[9]; 10. 40-George Hobaugh Jr[13]; 11. 22-Brandon Spithaler[8]; 12. 27K-Ricky Peterson[16]; 13. 70T-Scotty Thiel[4]; 14. 6-Bob Felmlee[10]; 15. 79W-Will Fleming[19]; 16. 11J-David Kalb[15]; 17. 13-Brandon Matus[20]; 18. 23JR-Jack Sodeman Jr[18]; 19. 20B-Cody Bova[7]; 20. (DNF) 70-Henry Malcuit[12]
Garvin Makes it Look Easy
Defending track champion John Garvin Jr. was facing a similar set of circumstances in the Precise Racing Products Late Model main event as a 29 car field which included invaders such as rising star Kyle Hardy, Bedford Speedway Late Model ace Matt Sponaugle and some formidable regional competitors in Matt Lux, Jon Lee and Eric Wilson. Throw in former champions Alex Ferree, Ken Schaltenbrand and Michael Norris, and the stage was set for a potential glimpse of ULMS Late Model regional competition which is scheduled for three dates at The Action Track this season.
Like Flick, Garvin started on the outside of the front row and alongside young, rising star Levi Yetter and when action got underway, the two pilots found themselves neck and neck at the line following lap one. Using the low side entering turn one, Garvin was able to wrest the lead away while behind him, Yetter and Logan Zarin were making their case to battle for the win, keeping Garvin within close reach. Zarin was able to take the second spot away from Yetter as well as Hardy and former track champion Colton Flinner. Out front, Garvin started putting some distance between himself and Zarin as Tyler Dietz entered the top five.
At the lap 10 mark, Garvin threw his first lapped car behind him with ease with Zarin still within striking distance. Hardy then found himself knocking on Zarin's door and engaged in a battle for the second spot while Garvin used the circumstances behind him to add to his lead as he found some clean air just past the halfway point. Flinner then began applying pressure to Hardy as he joined the part up front in the chase pack. Hardy was able to hold him off but with no more cautions in store the rest of the way, Garvin cruised to the opening night win, extending the defending champion winning streak to two features on the night.
"The car was perfect," Garvin stated. "I didn't try the very top tonight, I probably could have but I was good where I was so until I saw or heard someone real close I was good where I was."
Precise Racing Products Late Model Feature: (Finish-Name-[Start]) 1. J4-John Garvin Jr[2]; 2. 1Z-Logan Zarin[3]; 3. 00-Kyle Hardy[4]; 4. 48-Colton Flinner[6]; 5. 77-Tyler Dietz[9]; 6. 10-Michael Norris; 7. 29-Ken Schaltenbrand[10]; 8. 9-Levi Yetter[1]; 9. 3RK-Daryl Charlier[11]; 10. 5L-Jon Lee[5]; 11. 111-Matt Lux[13]; 12. 8-Matt Sponaugle[14]; 13. 1C-Alex Ferree[8]; 14. 75-RJ Dallape[16]; 15. 81-Mike Miller[18]; 16. 14-Braeden Dillinger[17]; 17. 10L-Gary Lyle[15]; 18. 20-Doug Eck[7]; 19. (DNS) 55-Chris Schneider
Swartzlander Takes Hard Fought Win for #101 All-Time
It was a good night to start another 100 feature win run. Eight time track champion and Hall of Fame member Brian Swartzlander found himself starting on the front row of the Diehl Automotive Big Block Friday's Modified feature which contained 18 entries. But, behind him lurked Jeremiah Shingledecker, Garrett Krummert, Rex King Jr. Dave Murdick, Chas Wolbert and a few more regular feature winners. However, his strongest challenge on the night perhaps came from a rejuvenated Steve Feder who was determined to not make it an easy night for him.
Feder started from the pole and was immediately tested by Wolbert before the caution flag waved for Justin Shea. On the ensuing restart, Swartzlander made his way around Feder on the high side but Feder kept his momentum working and retained the lead at the flag stand. The two raced side by side with very little separation until Swartzlander finally captured the lead heading into the fourth lap. Behind the front runners, Wolbert, Shingledecker, Krummert and King Jr. kept making their way to the front until Krummert slipped off the backstretch with six laps in the books, losing several spots in the process. Out front, it looked as if Swartzlander would be uncontested the rest of the race at the 10 lap mark. Meanwhile, King Jr and Shingledecker were all over Wolbert for the third spot, waging a hard fought battle of their own which King Jr would eventually emerge from, while Shingledecker found himself spun out at the bottom of turn four which reset the field.
When action resumed on lap 13, Swartzlander elected to start on the bottom and took away Feder's momentum to keep the lead while King Jr started applying pressure to both front runners. Behind them, Murdick made a charge past Wolbert and into the fourth spot as the caution waved one more time for Justin Shea with 16 laps in the books. On the enuing restart, Swartzlander used his previous formula to stay out front as Feder and King Jr made on final assault on the lead with the laps winding down but came up just short as Swartzlander kept his pursuers just off his back bumper at the end of 25 laps for the win.
"It's awesome, the car was feeling really good tonight." Swartzlander said in victory lane. "Starting up front helped for sure. I want to dedicate this to my cousin Flip Swartzlander who passed away recently. He was here every Friday and always with us in victory lane and this first win is dedicated to him."
Diehl Automotive Big Block Modified Feature: (Finish-Name-[Start]) 1. 83-Brian Swartzlander[2]; 2. 45-Steve Feder[1]; 3. 165-Rex King Jr[10]; 4. 61-Dave Murdick[9]; 5. C3-Chas Wolbert[3]; 6. 20P-Mike Kinney[8]; 7. 5C-Ayden Cipriano[12]; 8. 29-Garrett Krummert[4]; 9. 9-Will Thomas[13]; 10. 13-Rick Regalski[11]; 11. 11R-Brad Rapp[5]; 12. 18-Colton Walters[14]; 13. 35-Steve Slater[15]; 14. 14S-Justin Shea[6]; 15. 64-Rodney Beltz[17]; 16. 37MD-Jeremiah Shingledecker[7]; 17. 10-Chelsie Kriegisch[18]; 18. 75-Jeff Miller[16]
Dietz Takes Care of Business in Pro Stocks
Tyler Dietz came into the night following a 2022 campaign that saw him earn his second track championship, and that momentum seems to have followed him into the 2023 season as he was able to best another strong field of 16 Millerstown Pic-A-Part Pro Stocks which included the return of 6 time champion Corey McPherson, the always formidable Brian Daugherty, Jason Fosnaught, and Nick Kocuba and regional standout Tim Bish. Not to mention, Dietz's own brother Jake, who had been making long strides to the front of the fields in the past two seasons.
Jake Dietz brought the field to the initial green flag alongside up and coming driver Cody Koteles with Koteles taking the early lead with Daugherty also making his way past Dietz before all action ceased for a caution with one lap down. When action resumed, Fosnaught joined the chase pack along with Tyler Dietz whom were all under a blanket for contention up front when the yellow flag once again halted progress. When the green flag waved again, Koteles retained the lead with Fosnaught and Daugherty close behind. Tyler Dietz then went to work on the leaders, making his way past all but Koteles in one lap as McPherson started making progress towards the front using the bottom groove. Out front, Koteles was looking like a lock in clean air and the laps clicking off as Tim Bish slid under Daugherty for the third spot. The yellow came out once again for Cole Miller who was facing the wrong way on the back stretch with nine laps to go.
Koteles elected to start on the bottom, and Tyler Dietz used the high side to win the drag race into turn one, taking the lead in the process while McPherson rocketed to the third spot and began hunting Koteles for second. Out front, Dietz was putting the field behind him and making it look easy in doing so working in the middle groove in turns three and four and slightly lower in the first set of turns. McPherson appeared to take second from Koteles down the back stretch with just three laps to go but Koteles was able to hang on and keep his second place finish. Dietz never looked back and was never threatened the rest of the way, earning a comfortable victory in the process.
"If that caution didn't come out I don't think I could have had anything for him, he ran a real good race," Dietz remarked . "1`I feel bad because I've been in his exact position before and this is a really hard place to win at and he's going to probably win a lot of races because he's got the talent. But he's going to have to earn it just like I did."
Millerstown Pic-A-Part Pro Stock Feature: (Finish-Name-[Start]) 1. 00-Tyler Dietz[7]; 2. 1K-Cody Koteles[3]; 3. C33-Corey McPherson[10]; 4. 11B-Tim Bish[8]; 5. 73-Brian Daugherty[5]; 6. 25-Jason Fosnaught[4]; 7. 27-Jacob Dietz[1]; 8. 4-Brett Hutira[9]; 9. 10-Nick Kocuba[11]; 10. 77H-Heath Close[13]; 11. 12M-Trevor Mccann[16]; 12. 68-John Peterman Jr[12]; 13. 00L-Cole Miller[2]; 14. 310-Dale Tuche[6]; 15. M5-Tony Magill[15]; 16. (DNS) 27X-Dylan Morando
Racing at The Action Track continues next Friday, April 28 as the Fab4 Revved Up with Marburger Farm Dairy makes their second appearance of the 2023 season. Grandstands open at 5 PM, Racing starting at 7:30 PM. For more details, updated points and upcoming events plus ticket information please visit us at Lernerville.com.
---
Submitted By: Gary Heeman
Back to News