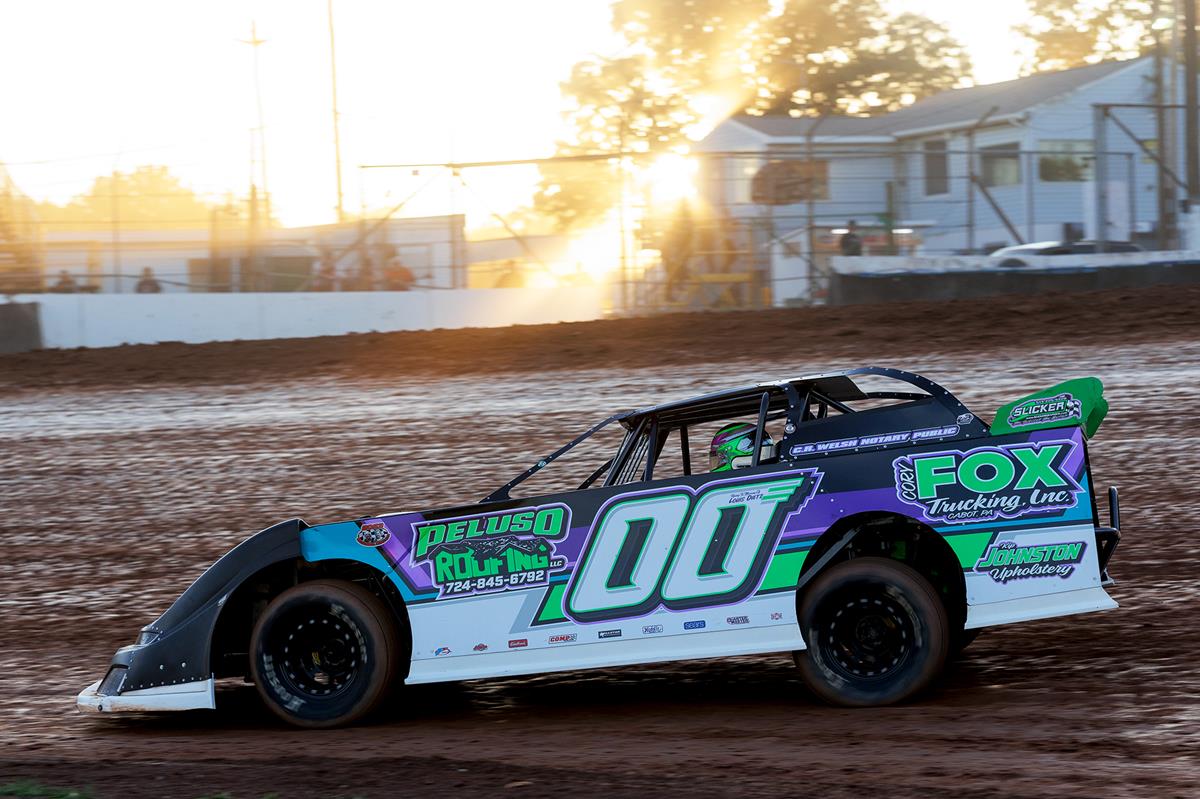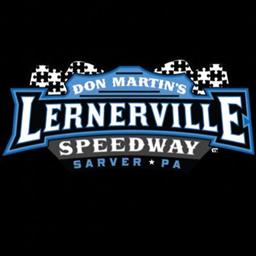 5/27/2023
Lernerville Speedway
---
Dietz Rolls In Bob Lambert Memorial; Flick Tops Peoples Sprints; Krummert Scores Modified Win: Kornbau Bests AST 305s
Jason Brown Photo
Sarver, PA (May 27, 2023) With Chamber of Commerce weather in the background and four divisions on hand, The Action Track came alive following last Friday night's rain out and offered its fair share of twists and turns throughout all four main events. Tyler Dietz was both the hunter and the hunted in his season long battle with Cody Koteles, but was able to take top honors in the Bob Lambert Memorial for the Millerstown Pic-A-Part Pro Stocks while AJ Flick pulled off a last lap slidejob for his second win of the year in Peoples Natural Gas Sprint Car action. Meanwhile, Garrett Krummert found the top side of the speedway to his liking in collecting his first feature win of the year with the Diehl Automotive Big Block Modifieds and Jeremy Kornbau held off a furious late race challenge from the wily veteran Greg Dobrosky to take his first career feature victory at the speedway in Allegheny Sprint Tour racing action.
Dietz Rolls to $2,000 Payday
With two wins already under his belt on Lernerville clay in 2023 and high profile wins both at The Action Track and beyond in the past year, Tyler Dietz came into the evening as one of the favorites to take the $2,000 top prize in the inaugural Bob Lambert Memorial for the Millerstown Pic-a-Part Pro Stocks. However, the 29 car field assembled was riddled with prior Pro Stock Pandemonium and Steel City Stampede feature winners who combined, held over 10 wins in extra purse events held at the speedway.
Brett Hutira and Cody Koteles brought the 24 car field to the green flag while six-time track champion Corey McPherson lurked right behind them starting third, and with the 25-lap main event underway, Koteles made his way to the lead with Hutira and McPherson tucked behind him. Dietz started sixth but quickly made his way to fourth before Chase Lambert brought out the yellow flag with three laps down. Koteles elected the high side on the restart as McPherson began to take looks under the leader when action resumed while Dietz began taking looks under McPherson for second. Dietz made his way past McPherson at the six lap mark and set his sights on Koteles for their third door to door battle for the lead of the season. Dietz managed to make his way to the top spot on lap eight and by the halfway mark had entered lapped traffic with traffic straight ahead of him in the low groove where he had performed so well. Koteles drew even once again with 10 laps to go and a new batch of lapped traffic.
Meanwhile, behind them, veteran pilot Andrew Gordon had pulled to within a half second of McPherson, threatening to take the third spot away while Koteles pulled to Dietz's back bumper with two laps to go, but Dietz was able to mix up his lines just enough to take the momentum away from Koteles, preserving his third win of the season.
"Bob (Lambert) was such a great guy," Dietz said. "He called me three or four times a day when I was driving, we were really good buddies and he was a huge supporter of my racing. He was always pushing me to be better. He was a really good guy for the sport and he is missed. I think I got lucky in that lapped traffic, I used a couple of cars for pick and my tire was going away a little bit at the end and I couldn't hold the bottom anymore. I think I made the right move by moving up a little bit."
Millerstown Pic-A-Part Pro Stock Feature ($2,000-to-win Bob Lambert Memorial): (Finish-Name-[Start]) 1. 00-Tyler Dietz[6]; 2. 1K-Cody Koteles[2]; 3. C33-Corey McPherson[3]; 4. 25G-Andrew Gordon[12]; 5. 73-Brian Daugherty[9]; 6. 7W-Bobby Whitling[11]; 7. 4-Brett Hutira[1]; 8. 81-Mike Miller[15]; 9. 948-Joey Zambotti III[7]; 10. 29-Curt Bish Jr[24]; 11. 26-Mike Bordt[14]; 12. 10-Nick Kocuba[18]; 13. 84S-Joshua Seipple[17]; 14. 22-Chase Lambert[4]; 15. 310-Dale Tuche[10]; 16. 00L-Cole Miller[13]; 17. 12M-Trevor McCann[19]; 18. 68-John Peterman Jr[16]; 19. 8C-Brandon Doland[22]; 20. 94-Dalton Myers[21]; 21. 7A-Tom Robertson[23]; 22. 55S-Chris Schneider[8]; 23. 11B-Tim Bish[5]; 24. (DNS) 27-Jacob Dietz
Flick Saves Best For Last in Peoples Sprints
The Peoples Natural Gas Sprint Cars seldom disappoint when it comes to thrilling finishes and on Friday night, six-time and defending track champion AJ Flick added to the dramatic flair of the night with what seemed an unlikely feature win just a few laps before the race's conclusion. Brandon Matus and Darin Gallagher started on the front row and it took Gallagher less than a lap to assume command of the field with Matus and a fifth-starting Flick beind them in the early going. After a bit of a slip on lap two, Gallagher went straight to work, putting a sizable lead on the field.
Behind them, former track champions Carl Bowser and Jack Sodeman Jr. rounded out the top five. Sodeman was able to take the third spot from Flick away and with five laps down, the battle for the second spot between Matus, Sodeman and Flick was on. It was short lived however, as Flick powered up in turn three and split both Matus and Sodeman in turn four in an attempt to take the position. The move helped create a side by side battle with Sodeman for two laps until Flick powered his way around on the top side to take the spot for the foreseeable future. Meanwhile, Gallagher had amassed a nearly three second lead on Flick during the battling behind him and clearly looked like the class of the field with 15 laps to go.
Flick began whittling away at Gallagher's lead at the halfway mark while using the top of the speedway in turns three and four and coming down a lane in turns one and two. With no real thick webs of lapped traffic ahead of the race leader, Flick was able to seemingly run down Gallagher lap by lap until he found himself just one half second behind Gallagher as the white flag waved. In the final set of turns, Flick ramped up once again as he had done splitting traffic earlier, dove low and slid in front of the leader coming out of turn four, then proceeded to cross first under the checkers for his second feature win of the season in a caution free 25 lap main event.
"Darin deserves this as much as anybody," Flick said in Terry Bowser Excavating Victory Lane. "Some of the wins that we've been able to grab off of him have been real late in races. It's just product of the track conditions. Last week it laid rubber and this week it was pretty much one lane around the top. I needed him to make just one more mistake and I could get a run on him, it was pretty much sail it through the middle and hope that it sticks and that's all we could do."
Peoples Natural Gas Sprint Car Feature: (Finish-Name-[Start]) 1. 2-AJ Flick[5]; 2. 12-Darin Gallagher[2]; 3. 11-Carl Bowser[4]; 4. 32-Dale Blaney[6]; 5. 23JR-Jack Sodeman Jr[3]; 6. 13-Brandon Matus[1]; 7. 08-Danny Kuriger[11]; 8. 6-Bob Felmlee[7]; 9. 33-Brent Matus[10]; 10. 95-Garrett Bard[12]; 11. 11J-David Kalb[8]; 12. X7-Andy Cavanagh[13]; 13. 154-Shamus O'Donnell[14]; 14. 55*-Matt Sherlock[9]
Krummert Cruises To First 2023 Win at Lernerville
Rex King Jr. brought the points lead into the night and was blessed with the number one redraw pill as all arrows pointed towards a potential victory for the former two-time track champion on Friday night. King had yet to win a feature event with the Diehl Automotive Big Block Modifieds through three weeks and was hungry to collect the trophy. However, Garrett Krummert may have been starving considering speed and smoothness with which he piloted his machine having gone winless to start the season as well. King and heat winner Steve Slater started on the front row with King taking the early lead while behind him, Brad Rapp moved forward into the second spot. Krummert moved forward two spots from his sixth starting spot in the early going while out front, Rapp kept King Jr. within his sights while defending champion Jeremiah Shingledecker ran third.
With four laps down, Krummert was able to use the top of the speedway to make his way around Shingledecker and around Rapp for second just one lap later. Next up for Krummert was King who was still making his way around the bottom of the surface until Krummert made his way by for the lead down the front stretch on lap nine. King made an adjustment to his racing line but could not reel in Krummert while the caution flag waved as Slater stopped on top of the back stretch at the halfway green flag perfectly, preventing any chance for King to slide up in turn one to take the spot back. The caution flag made another appearance just two laps later when Dave Murdick and Rapp made contact in turn four causing Rapp, who was running fifth at the time, to spin. There were 8 laps to go as the race restarted with Krummert jumping out the lead once again as Shingledecker began taking looks to the outside of King for the second spot, enabling Krummert to simply run away from the field in clean air for his first win of the season at The Action Track.
"I figured with him (King Jr.) starting up he'd either win and we'd run second if we could just get there," Krummert said. "I was surprised by how good it was up there on top, it just kind of felt right for us. Just watching the Sprint Cars, we knew they weren't real good on the bottom so you just kind of hope that it's not and you set up for it."
Diehl Automotive Big Block Modified Feature: (Finish-Name-[Start]) 1. 29-Garrett Krummert[6]; 2. 165-Rex King Jr[1]; 3. 37MD-Jeremiah Shingledecker[5]; 4. 61-Dave Murdick[9]; 5. 83-Brian Swartzlander[15]; 6. C3-Chas Wolbert[8]; 7. 11R-Brad Rapp[3]; 8. 45-Steve Feder[13]; 9. 20P-Mike Kinney[10]; 10. 35-Steve Slater[2]; 11. 75-Jeff Miller[4]; 12. 03-Mark Frankhouser[12]; 13. 9-Will Thomas[11]; 14. 64-Rodney Beltz[14]; 15. (DNS) 13-Rick Regalski
Kornbau Tops Allegheny Sprint Tour 305s
The Allegheny Sprint Tour made their first appearance on Friday night with a roster that included 23 cars and several such drivers as Greg Dobrosky, Jim Morris and Jake Gomola, who know how to find victory lane at The Action Track. Jeremy Kornbau made the decision to stop in for an appearance on Friday night to compete in the 305 Sprint class and made it pay off as he found pay dirt when all 20 laps were complete.
Jim Morris and Andy Priest brought the field to the green with Morris jumping out to the early lead and Kornbau directly behind him, coming up from his third starting spot. Kornbau took the lead from Morris with two laps in the books when Jarrett Rosencrance spun after contact with another car in turn four. When action resumed, Kornbau shot out to a four car length advantage with Morris and Gomola behind him. Gomola would overtake Morris for second on lap five while behind them, Dobrosky was making steady gains forward from his 10th starting spot using the middle groove a good deal of the time. Out front, Kornbau had a sizable lead at the halfway mark with Dobrosky making his way past Morris for third as lapped traffic started to assemble in front of the race leader. Drobrosky wrested the second spot from Gomola with 6 laps to go but had a three second gap between himself and the leader. However, he got the break he needed as a caution with four laps to go gave Dobrosky an opportunity to make his around Kornbau. When action resumed, Dobrosky went right to work on the bottom of the speedway and immediately looked for the lead, drawing wheel to wheel with Kornbau in a thrilling battle that lasted the entire last four laps with Kornbau never flinching en route to his first career victory at Lernerville.
"I contemplate come here every time because I'm never any good," Kornbau said. "Heat races are good when there's a cushion and we finally worked on it enough and we made it. He (Dobrosky) is always really good here. I tried to take his line every time, it was a tough one."
Allegheny Sprint Tour Feature: (Finish-Name-[Start]) 1. 27K-Jeremy Kornbau[3]; 2. 88-Greg Dobrosky[12]; 3. 4J-Jacob Gomola[5]; 4. 12G-Tommy Jasen[8]; 5. 3J-Jacob Begenwalid[9]; 6. 29B-Robbie Bartchy[10]; 7. 21-Hunter Hite[16]; 8. 82M-Roman Jones[7]; 9. 16-Jim Morris[1]; 10. 25-Jarrett Rosencrance[6]; 11. 17S-Shane Heath[15]; 12. 3-John Jerich[11]; 13. 5J-Logan Jones[18]; 14. 19M-Body McClintoch[4]; 15. 48-Jeff Bacha[20]; 16. 20M-Vivian Jones[22]; 17. 25K-Matthew Kline[21]; 18. 30-Jazlyn Boyles[17]; 19. 3B-Ryan Beatty[13]; 20. 44-Pete Landram[19]; 21. 34-Adam Noland[14]; 22. 21N-Andy Priest[2]; 23. 4G-Justin Kovach[23]
Taking the honors as the Panza Supply Hard Charger of the Night Award winner was Brian Swartzlander who climbed 10 spots in the Diehl Automotive Big Block Modified main event.
Fab4 racing returns to The Action Track on Friday, June 2 with a special appearance from the third annual Western Pennsylvania Sprint Speed Week taking center stage. The Peoples Natural Gas Sprint Cars will be racing in a complete, $3,000-to-win program and they'll be accompanied by the Precise Racing Products Late Models, Diehl Automotive Big Block Modifieds and Millerstown Pic-a-Part Pro Stocks.
---
Submitted By: Gary Heeman
Back to News